Paramount To Tease Latino 'Paranormal Activity' Spin-Off In Post-Credits 'Paranormal Activity 4' Scene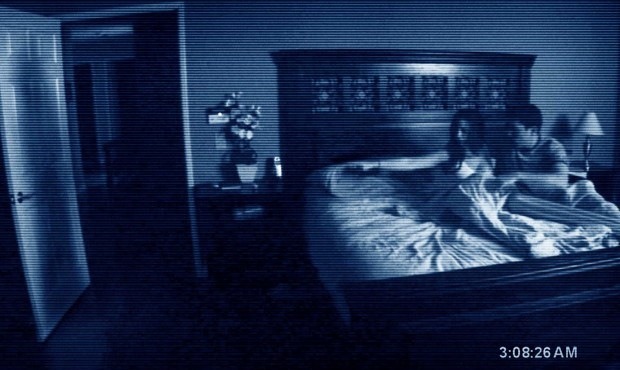 The Paranormal Activity franchise has proved a boon for Paramount, thanks to the films' low budgets, high box office grosses, and quick production schedules. But the real magic ingredient may be the series' surprising ability to keep expanding mythology of the relatively simple first film. Paranormal Activity 2 and 3 kept things fresh by filling in the blanks left by the first movie, and this month's Paranormal Activity 4 promises to build on that foundation by picking back up with Katie and Hunter.
So naturally, the studio's been thinking up ways to keep expanding the Paranormal universe, perhaps even after Katie and Hunter's tale comes to an end. (Whenever that may be.) A new report indicates that Paramount is looking to offer a peek of a Latino-themed Paranormal spinoff within the credits of Paranormal Activity 4. More after the jump.
Christopher Landon (Disturbia) has been on board since spring to write and direct the project, which will draw from Catholic paranormal mythology. Considering how often the Catholic church is referenced in horror movies, that shouldn't prove too much of a challenge. The movie will be in English, not Spanish, but will focus on Latino characters and Latino themes. Landon has prior experience with the original Paranormal franchise, having worked on the scripts for the last three titles.
Interestingly, the news breaks just days after THR published their story on the importance of the Latino market to box office grosses. The trade cited MPAA research indicating that while Latinos comprise just 16% of the U.S. market, they buy 25% of the tickets. Their analysis suggested that the demographic was attracted to movies starring Latinos, and that they particularly enjoyed animated family films and horror flicks "or any story with a mystical, demonic or Catholic tinge." The cheap but lucrative Paranormal Activity franchise seems like a perfect place to test those findings.