First (Very Brief) 'Star Trek Into Darkness' Clip Debuts On 'Conan'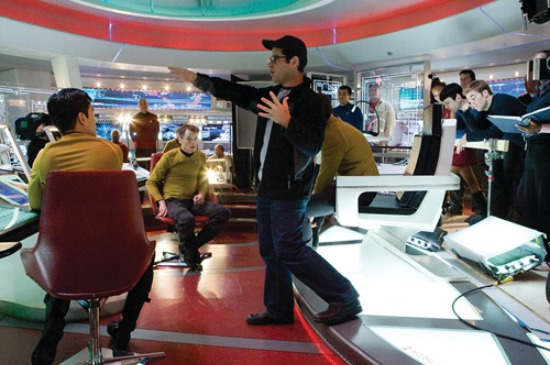 Though we've been eagerly awaiting the Star Trek sequel for years now, thanks to director J.J. Abrams' famous reticence, we don't know very much about Star Trek Into Darkness just yet. While a few plot details and set photos have leaked out here and there, Abrams has as predictably tight-lipped about the new film as he is about most of his projects.
During an appearance on Conan tonight, however, the filmmaker debuted a brief clip from Star Trek Into Darkness. And when I say brief, I mean very, very brief. Still, it's just exciting to finally get a first peek at the movie, no matter how small. Check it out after the jump.
[via The Film Stage]
Did you catch that? Here's a freeze-frame for a better look: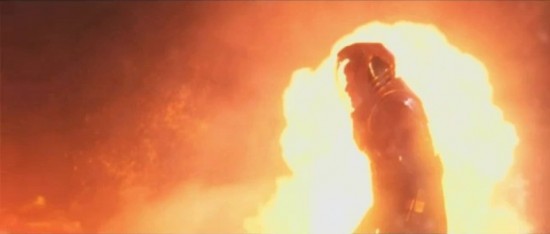 Conan says "The Internet is going to lose their minds." I have no doubt he's right. To my non-Trekkie eyes, the one-second clip doesn't seem to reveal a whole lot, but I'm sure the Trek devotee blogs are picking over it for any clues and hints already.
The scene in question seems to be the same one as, or related to, to the one we saw set photos from back in April. Those showed Spock (Zachary Quinto) in the so-called "Volcano Suit," which Abrams mentions now in his interview. Here's the description we got at the time:
Zachary Quinto as Spok filming an action scene for the Untitled Star Trek 2 Sequel. After first rehearsing the scene with a Spok Stunt Double Actor Zachary Quinto was then rigged to a wire in front of a large green screen and lifted to a height of 10 stories high then dropped at a high rate of speed as if he was falling. In the scene Spok is wearing a "Volcano Suit" and carrying an unknown piece of equipment with the Starfleet Emblem. A Volcano is somehow involved in this scene. The crew had a real fire burning off camera to catch the fire reflections on Spok's "Volcano Suit".
As for what Spock is doing in that volcano, your guess is as good as mine. Have at it in the comments.
Star Trek Into Darkness opens May 17.