Warner Bros. Planning 'Wizard Of Oz' 3D Blu-Ray, 'Hobbit' Extended Edition, 'Dark Knight Trilogy' Collectors Edition And More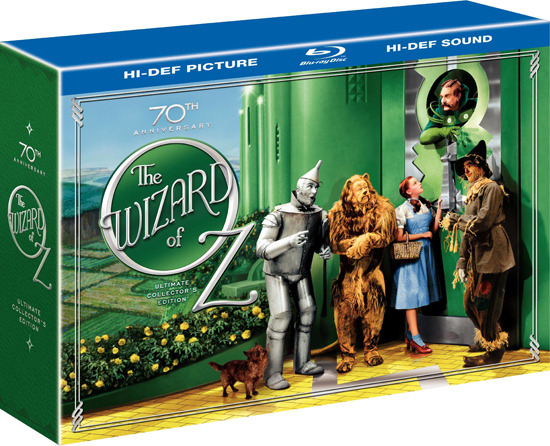 2013 is the 90th anniversary of Warner Bros., and besides a strong slate of theatrical films, the company has some very surprising – and not so surprising – plans for the home market. The biggest news is they're planning 3D conversion of the 1939 classic The Wizard of Oz for Blu-ray, coupled with a likely, limited theatrical run. There will also be an Extended Edition of The Hobbit: An Unexpected Journey and a Ultimate Collector's Edition of Christopher Nolan's Dark Knight Trilogy, both of which will upgrades from Blu-ray releases with less features. Read more about all of this after the jump. 
The news of The Wizard of Oz 3D Blu-ray (not pictured above, that's an older edition) was first tweeted by Variety and then reported on by Collider. Outside of the fact that it'll be released "sometime next year in September or October" there's no other real news and e-mails to Warner Bros. Home Entertainment were not returned. The New York Post had reported back in 2009 this was something Warners was looking to do but it seems they were waiting for the technology to catch up to the idea. Expect further information on the release, and promotional theatrical showings, next summer/fall.
And while that news will be upsetting and a little surprising to most people, this news should be surprising to no one. Movies.com recieved the following tentative release schedule for Warner Bros. DVDs in 2013 and two things stand out, besides the aforementioned Wizard of Oz: are The Hobbit: An Unexpected Journey Extended Edition and The Dark Knight Trilogy Ultimate Collector's Edition.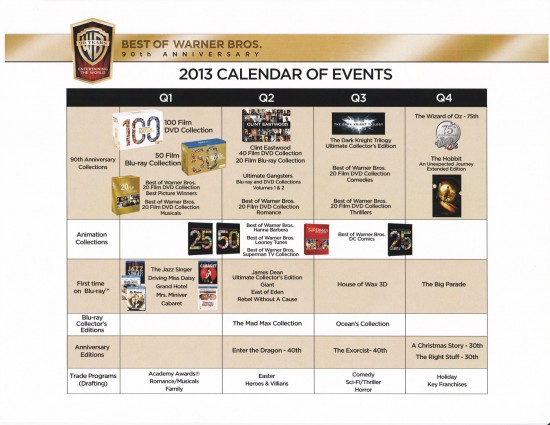 Later this year, Warner Bros. is releasing The Dark Knight Rises on Blu-ray as well as a Dark Knight Trilogy box set. Those will be out on December 4. Fast forward to next Fall, and we have this "Ultimate Collector's Edition." Warner Bros. likely won't reveal any of what makes the box set so special until well after the first, bare bones release, is off shelves but at least now you know something better is coming and can decide which to buy.
Then there's The Hobbit: An Unexpected Journey Extended Edition, released alongside the theatrical release of the second Hobbit film, The Desolation of Smaug, in quarter four. This is the same pattern Warner Bros. and director Peter Jackson used when the first Lord of the Rings trilogy was being released: Theatrical release, bare bones DVD release, extended DVD release and another theatrical release. Since it's the same, you can expect not only an eventual box set not only of all three Hobbit films and all three Hobbit extended editions, but probably a full six film box set too.
Lots to discuss here. Are you upset with the Wizard of Oz 3D conversion? Will you wait for the full trilogy box set with Dark Knight? How will you tackle The Hobbit?