'The First Time' Trailer: Up-And-Coming Teen Stars Navigate Sex And Relationships In Hit Sundance Drama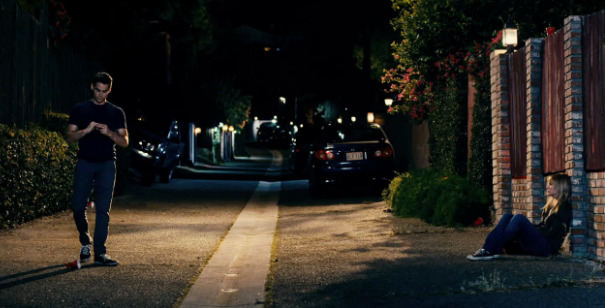 The loss of virginity plotline is a staple of teen flicks, as is the wild party setting. On that front, Jon Kasdan's The First Time offers nothing new. But since its Sundance premiere, this little coming of age tale has drawn praise for being an uncommonly charming example of the subgenre. Peter called it "Can't Hardly Wait meets John Hughes," and that's exactly what it looks like — familiar, perhaps, but sweet and smart enough to become a minor high school classic in its own right.
Dylan O'Brien (Teen Wolf) stars as awkward Dave, who carries a torch for his popular best friend Jane (Victoria Justice, Fun Size). That is, until he meets sarcastic Aubrey (Britt Robertson, The Secret Circle), who in turn is dating a douchebag named Ronny (James Frecheville, Animal Kingdom). Craig Roberts (Submarine) and Lamarcus Tinker (Friday Night Lights) round out the young, up-and-coming cast as Dave's buddies. Watch the trailer after the jump.
The First Time is only Kasdan's second directorial effort, following 2007's In the Land of Women. But Kasdan's had experience writing teens on Freaks & Geeks and Dawson's Creek, and it shows in the film's sympathetic approach to these characters. Aubrey in particular seems like a standout — Robertson nails both her tough, wiseass exterior and the intelligent but vulnerable young woman just below the surface.The First Time hits theaters October 19.
Synopsis:
THE FIRST TIME is a modern look at the angst, anticipation and hopefulness of young love...
Dave (O'Brien) is a high school senior who spends most of his time pining away over a girl he can't have. Aubrey (Robertson), a junior with artistic aspirations, has a hot boyfriend who doesn't quite understand her or seem to care. Dave and Aubrey meet one night at a party. A casual conversation sparks an instant connection, and, over the course of a weekend, things turn magical, romantic, complicated and funny as Aubrey and Dave discover what it's like to fall in love for the first time. Director/screenwriter Jonathan Kasdan skillfully captures a moment of adolescence that rings resolutely true.