LOL: Siri Relates To Robot Movies On Apple iOS 6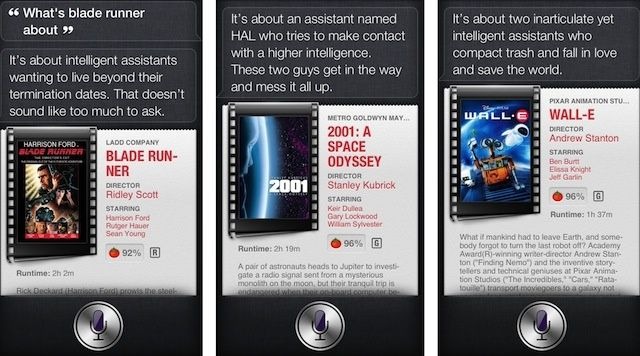 Oh Siri, you're so cheeky. The team over at Cult of Mac found a few movie related easter eggs buried in the new iOS6 upgrade of Siri on the iPhone. We already knew she became well-versed in the language of cinema and movie times with this upgrade but she'll also give clever and funny descriptions of movies with a robotic characters at their center. The descriptions of Blade Runner, 2001: A Space Odyssey and Wall-E are above. She was unaware of Metropolis, A.I. Artificial Intelligence and I Robot. Can you find other funny movies? Tell us in the comments below.
Thanks to Cult of Mac. Did you find any other movie related easter eggs in Siri?