Sequel Bits: '300: Rise Of An Empire', 'Fast And The Furious 6', 'Taken 3', 'Scary Movie 5', 'The Hobbit', 'Before Midnight'
Some of today's tidbits involve actors claiming they probably won't do a sequel. Imagine that. After the jump:
300: Rise of an Empire stars gather for a group photo
Watch an explosive video from Fast and the Furious 6
Liam Neeson does not think Taken 3 will ever happen
Mike Tyson and Kendra Wilkinson join Scary Movie 5
Benedict Cumberbatch talks about mo-cap in Hobbit
Ethan Hawke says Before Midnight may be the end of his unexpectedly long-running series with Richard Linklater.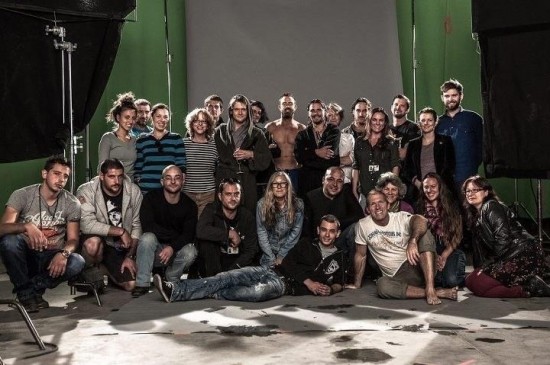 Directed by Noam Murro and starring Rodrigo Santoro, Sullivan Stapleton, Jack O'Connell, Jamie Blackley, and Eva Green, 300: Rise of an Empire is slated for an August 2, 2013 release. [via Daily Blam]
Last week's Fast & Furious 6 video seemed to tease some kind of road heist involving a tank; this one suggests the same scene involves at least one big, fiery explosion. Because it just isn't a Fast and the Furious movie without some gloriously insane action. Watch the new video from the movie's Tenerife set.
Justin Lin returns for the new movie, which features returning stars Paul Walker, Vin Diesel, and Dwayne Johnson and series newcomers Gina Carano and Luke Evans. Fast & Furious 6 will hit theaters May 24, 2013. [via Coming Soon]
It's not unusual these days for a successful franchise to churn out six or seven or eight installments, but Taken star Liam Neeson says he doesn't see the thriller series going past this weekend's Taken 2. Asked about the possibility of a Taken 3, Neeson responded:
I don't see it. I don't think it's going to happen. I really don't. I can't see a possible scenario where audiences wouldn't go, 'Oh, come on...! She's taken again?'
Neeson's probably right that the kidnapping plotline has run its course. But if Taken 2 does well enough at the box office, you can bet the studios will start trying their darndest to continue that story one way or another. The Olivier Megaton-directed Taken 2 opens this weekend with Neeson, Famke Janssen, and Maggie Grace starring. [via Screen Crush]
The cast of Scary Movie 5 just keeps getting more random, with new additions Mike Tyson, Audrina Partridge (The Hills), and Kendra Wilkinson (The Girls Next Door). The trio join an extensive roster that already includes Ashley Tisdale, Erica Ash, Lindsay Lohan, Charlie Sheen, Simon Rex, Molly Shannon, Terry Crews, Marisa Saks, Heather Locklear, Jasmine Guy, Angie Stone, Kate Walsh, Angela "Big Ang" Raiola, and Sherée Whitfield. The next installment of the depressingly lucrative horror-comedy franchise opens April 19, 2013. [Black Film via Coming Soon]
Benedict Cumberbatch is ditching Sherlock's signature overcoat and scarf for a mo-cap suit to play Smaug the dragon in Peter Jackson's The Hobbit trilogy, and the actor says he's never felt freer:
You just have to lose your s–t on a carpeted floor, in a place that looks a little bit like a mundane government building. [...] It was just me as well, with four static cameras and all the sensors. Then the boys at Weta work their magic... It's very freeing, once you put the suit on and the sensors. I've never felt less encumbered, actually. And you have to be. You have to be free.
Which all sounds very well and good, but as previously reported, we won't actually get to see Cumberbatch's performance until next fall. The Brit star has previously said that we'll see little more than his eye in the first chapter, The Hobbit: An Unexpected Journey, which hits December 14. But the title of the next entry — The Hobbit: The Desolation of Smaug — suggests we'll see much more of his character when that opens December 13, 2013.
The trilogy will then conclude The Hobbit: There and Back Again on July 18, 2014, unless WB figures out a way to wring yet another installment out of Tolkien's 300-page volume between now and then. [SuperHeroHype]
Savor the reunion of Celine and Jesse when Before Midnight hits (likely next year), because Ethan Hawke says it could be the last one. In a recent interview, the actor acknowledged, "You never know, but it feels like the story's reaching its resolution."
[Before Midnight's] really a continuation. For me, we just filmed it a couple days ago and I'm still kind of high from the experience. The hardest thing will certainly be... that the first two have a real following. People care about these characters and we really feel an obligation not to let people down about it. But at the same time, there's no way we're going to make everybody happy so we just had to try to go about with the same approach and same attitude. I love this movie. And I feel like in a strange way we may have come to the end of the story.
Could that be a clue about the way Before Midnight ends? If, unlike Before Sunrise and Before Susnet, Before Midnight brings Celine and Jesse's romance to a definitive conclusion, that could be cause to end the series. Or are Hawke, Julie Delpy, and Richard Linklater simply ready to leave the international lovers behind? [Collider]