Biopic Casting: Natalie Portman As Jackie O, Brit Marling And Wes Bentley In Lincoln Drama, Miley Cyrus In 'Bonnie & Clyde'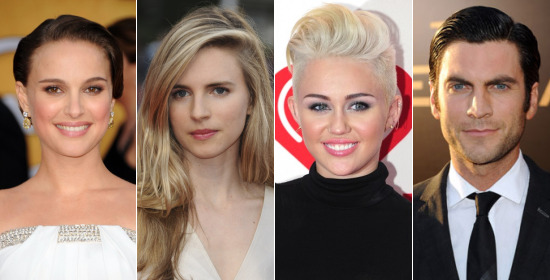 Katie Holmes portrayed Jackie O in last year's The Kennedys, Minka Kelly is playing her in next year's The Butler, and now it could be Natalie Portman's turn to tackle the role. The Oscar-winning star is reportedly being courted for the simply titled Jackie, a Noah Oppenheim-scripted drama about the aftermath of JFK's assassination as seen through the eyes of his widow.
When the project first got going, Portman's Black Swan director Darren Aronofsky was attached to direct with Rachel Weisz in the lead. However, both dropped out when their marriage ended in 2010. Portman is said to be waiting on a choice of director before she makes her decision. [Deadline]
After the jump, Wes Bentley and Brit Marling jump on the Abe Lincoln trend, and Hannah Montana goes on a crime spree.
Edwards' debut feature will explore the events and people that shaped the young Abraham Lincoln, turning him into one of the greatest leaders in American history. Marling has been cast as Nancy, Lincoln's mother, while Bentley is set to play Lincoln's first teacher. The pair join Jason Clarke and Diane Kruger, who will play Lincoln's father and stepmother. [Deadline]
Former Hannah Montana star Miley Cyrus is in talks for Bonnie & Clyde, a Lifetime / History miniseries written by John Rice and Joe Batteer. Cyrus will play Bonnie Parker, one-half of the real-life outlaw couple from the 1930s. The male lead has not yet been cast.
The pair's story has been adapted a number of times over the decades, but the most famous depiction remains Arthur Penn's 1967 picture in which Bonnie and Clyde were played by Faye Dunaway and Warren Beatty. The four-hour Bonnie & Clyde mini was originally developed for the more male-oriented History, but parent A&E network plans to expand its audience by airing it on the female-driven Lifetime as well. [Deadline]