'Lone Ranger' Set Photos Show Off Massive Practical Stunt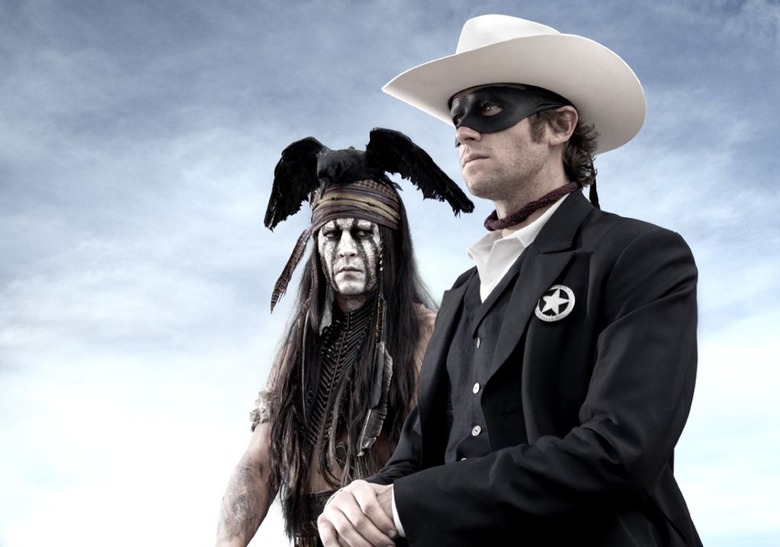 After over four months of filming and one terrible tragedy, Gore Verbinski's big budget Johnny Depp Disney movie The Lone Ranger finished production this week. That work is leading up to a July 3, 2013 release date. Even after cuts were made to the film's massive budget, rumors have the film costing upwards of $250 million but the first teaser trailer didn't quite provide a tangable idea of where all that money was going. Now we have a clue.
Several photos from the final week of filming have arrived online and they show an incredibly massive stunt featuring Johnny Depp as Tonto, his stunt double and what appears to be a train flying through the air. Be warned that, while there's no context surrounding these photos, odds are they contain spoilers. Check out the images after the jump.
Thanks to Perez Hilton for the images.
Some of those photos appear to be Depp while others, especially the ones that are in the air with the train, appear to be a younger, more athletic stunt double. There's no sign of Armie Hammer as the title character. That doesn't mean he's not in this scene, but maybe this train business is more of a Tonto thing.
(UPDATE: Comic Book Movie posted DOZENS more photos from this scene with Armie Hammer included.)
With production now complete on The Lone Ranger, we're likely to see posters, trailers and more in the coming weeks leading up to the holiday season. I'd bet there's a trailer next month with Wreck-It Ralph at the very least, if not bigger holidays releases like Django Unchained and The Hobbit: An Unexpected Journey.
Do you have high hopes for this film or have you already kind of forgotten it will be one of the major July 4 releases in the summer of 2013?