Sequel Bits: 'Pirates Of The Caribbean 5', 'Jurassic Park 4', 'The Hunger Games: Catching Fire', 'Scary Movie 5', 'Prometheus', 'The Godfather'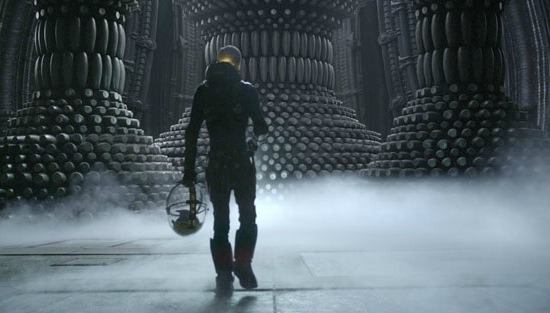 Read all about these sequel-related odds and ends after the jump:
Would Penelope Cruz do Pirates of the Caribbean 5?
Kathleen Kennedy offers a minor Jurassic Park 4 update
Catching Fire announces the rest of its supporting cast
Scary Movie 5 still shows a Mob Wife and a Real Housewife
Prometheus Blu trailer promises answers and new footage
Judge rules that Paramount can make more Godfather films
When the interviewer asked whether she needed to see a script, Cruz gave an ambiguous response: "No, it's not that. With Johnny [Depp] and with Rob [Marshall]; its like, anything. But I don't mean movies. I consider them my friends. And I really love them and respect them." Cruz claimed to have "loved" making On Stranger Tides, so maybe she's just waiting for the details to work out. [Collider]
After years of back and forth, Jurassic Park 4 seems to be on its way again with the recent hires of screenwriters Rick Jaffa and Amanda Silver. Asked for an update on the sci-fi sequel, producer Kathleen Kennedy replied, "Writing, writing, writing."
It's really hard to keep these things going when there's an expectation and a desire by the public and the audience to keep certain franchises going. As filmmakers, we often sit there going, 'Okay. We have to answer the question, 'Why do another one?" If you can't answer that question, you shouldn't be doing it. It's tough. We're trying to come up with a story that makes sense and isn't going to disappoint people and is, hopefully, going to get people excited and reinvigorate the franchise. We've got to start with a script and the story.
Naturally, the studio is eager to get the cameras rolling already. "[The studio] is just like, 'When?!'" she laughed. "They don't care about the agony we're going through!" [Coming Soon]
With shooting already underway in Georgia, The Hunger Games: Casting Fire has announced a few final bits of casting via their Facebook page. They're mostly unknowns in minor roles, but if you're curious about the fresh faces, here's the list.
James Logan – District 5 Tribute Boy
Ivette Li-Sanchez – District 5 Tribute Girl
Justin Hix – District 6 Tribute Boy
Megan Hayes – District 6 Tribute Girl
Bobby Jordan – Blight
John Casino – Woof
Elena Sanchez – Cecelia
Daniel Bernhardt – District 9 Tribute Boy
Marian Greene – District 9 Tribute Girl
Jackson Spidell – District 10 Tribute Boy
Tiffany Waxler – District 10 Tribute Girl
The Hunger Games: Catching Fire opens November 22, 2013. [EW]
I know you've been dying to see another still from Scary Movie 5, so here it is. According to the caption, the photo shows Mob Wives' Angela "Big Ang" Raiola and The Real Housewives of Atlanta's Sherée Whitfield "in an unforgettable fight scene."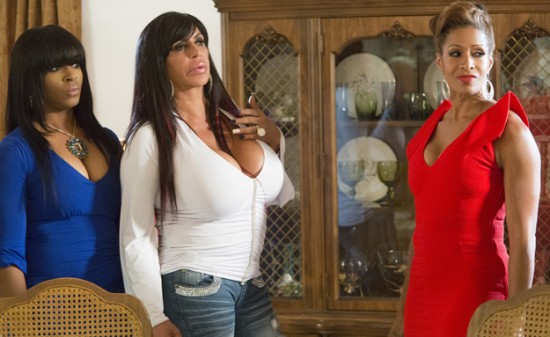 A riff on Black Swan, Scary Movie 5 comes to theaters April 19, 2013. [Coming Soon]
Fox seems awfully eager to please in the new Blu-ray trailer for Prometheus, which promises that "questions will be answered," with a new ending and a new beginning. So basically, the Blu-ay is for people who didn't actually like Prometheus.
Ridley Scott's sci-fi epic hits home video October 17. [Bleeding Cool]
Plenty of cinephiles would argue that even a third Godfather film was one too many, but — legally speaking — Paramount is now in the clear to make as many sequels as they want. A judge has ruled against a move made by the Mario Puzo estate to cancel a decades-old contract giving the studio film rights to Puzo's book. The two sides became embroiled in a legal war when Paramount attempted to block the publication of The Family Corleone, a book prequel writen by Ed Falco. Head to THR for more details.