'The Dark Knight Rises' Blu-Ray Extras Revealed: Nearly 20 Featurettes, No Deleted Scenes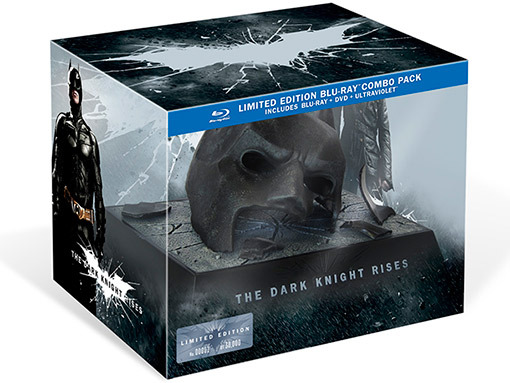 There's good news and bad news for fans of The Dark Knight Rises today. The good news is the film will hit Blu-ray and DVD on December 4, will be available with the limited edition broken cowl and will contain a ton of extra features. The bad news is there's not a deleted scene to be found, let alone the 30 minutes originally rumored. Making of featurettes encompass the bulk of the extras. Read the specs and see the official packaging below.
Entertainment Weekly broke the news of the set, which will include the movie on Blu-ray, DVD and Ultraviolet (yuck!) as well as the following:
The Journey of Bruce Wayne
Ending the Knight - "An in-depth look featuring about 17 featurettes at how Nolan and his production team made The Dark Knight Rises from Batman vs. Bane to totally demolishing a city."
Trailers
Art Galleries
And here are two looks at the packaging.
Fans of The Dark Knight Rises likely will feel at least a twinge of disappointment knowing there isn't more here, especially that Bane origin stuff we all know got shot. There's always the possibilities it gets covered in "Ending the Knight" but if it did, Warner Bros. would surely highlight that as a selling point.
And while yesterday brought the news of a full UK Dark Knight Trilogy box set, we have no official U.S. confirmation about that yet, only The Dark Knight Rises. There's always the outside chance, too that sometime down the road Nolan and his crew will double dip with an edition that's even more chock full of extra features. He did that for Memento and with this trilogy now complete, maybe it's time to let the cat out of the bag.
Will you be picking this up or waiting for the possibility of a better release? And do you go regular packaging or broken cowl?