'Price Check' Trailer: Ugly Betty's Boss Gets A Raise From Parker Posey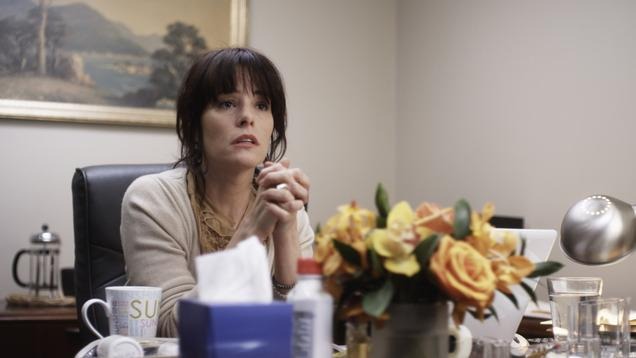 Parker Posey is one of those actresses you can count on to turn in an arresting performance even in the clumsiest of movies. So if nothing else, Michael Walker's Sundance comedy Price Check has that going for it.
The film centers around family man Pete Cozy (Ugly Betty's Eric Mabius) struggling with rising debt and an uninspiring career in grocery store pricing and marketing. His life is upended by the arrival of an ambitious new boss, an obnoxious but powerful force of nature played by Posey. Watch the new trailer after the jump.
There's something about the tone here that doesn't quite seem to gel. The trailer starts out looking like workplace humor in the vein of Office Space or The Office, and then takes an odd turn into a domestic drama about an unfaithful man. And entertaining as Posey's performance looks, it may be a bit too bold to fit into this drab little world. Especially since she totally upstages the ostensible lead, bland and decent Pete.
When it debuted at Sundance this year, Price Check received mixed to positive reivews, but was ultimately overshadowed by some of the flashier releases in the crop. Probably because aside from Posey, there doesn't seem to be much here to help it stand out in a crowded field of indie comedies.
THR liked the movie quite a bit, praising it as "a prime example of the type of well-produced, smartly cast independent features that Sundance has been helping launch into the theatrical marketplace over the past few years." Others were less tolerant of the plot's shift from comedy to drama. Film School Rejects called Price Check "laughably uneven," with a tone change "severe enough to give its audience cinematic whiplash."
IFC has Price Check slated to hit VOD October 11, and theaters November 16.