TV Bits: 'Treme', 'Magic City', 'Hamlet', 'A Knight's Tale', 'Homeland', Ricky Gervais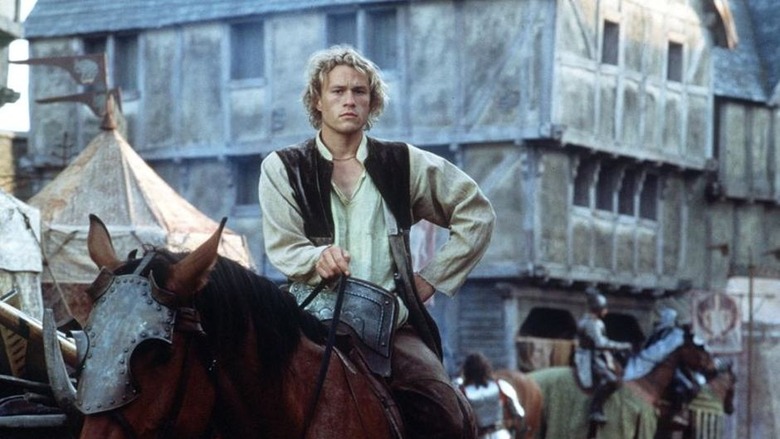 Ah, fall — not only are new shows debuting and old shows returning, shows that don't even exist yet are getting picked up left and right. After the jump:
HBO renews Treme for a fourth and final season
Ron Moore is adapting A Knight's Tale for ABC
Fox updates Hamlet for modern-day Washington, DC
Homeland casts F. Murray Abraham as a CIA agent
James Caan will be a mob boss on Starz' Magic City
Ricky Gervais' comedy Derek is headed to Netflix
Still, Simon says he and his cast say they're just happy to get to return at all. "To a person, [the stars] all came back. We're happy for a chance to finish the story on our own terms," he said. "It's not an ideal solution, but given the ratings for Treme relative to HBO's other original series, the existence of any kind of fourth season is something to be celebrated." [TV Line]
Is it just me, or are the cinematic inspirations for new shows getting more and more random? Deadline reports that Battlestar Galactica developer / exec producer Ron Moore is writing A Knight's Tale, a small screen adaptation of the 2001 medieval fantasy starring Heath Ledger. The project is set up at ABC with a script commitment.
The original feature was set in the 14th century, but incorporated playfully anachronistic flourishes such as Queen tunes and Nike logos. Ledger played William Thatcher, a peasant who poses as a knight, fakes his way to the top of the jousting circuit, and wins the love of a beautiful noblewoman.
Hamlet may be four centuries old, but Fox is hoping that its themes of familial betrayal and political intrigue are as timeless as ever. The network has just given a script commitment to America's Son, a Paul Redford-scripted contemporary take on the William Shakespeare classic. The drama follows a prodigal "JFK Jr. type" who returns home to Washington, D.C. when his father, a well-liked presidential hopeful, is killed in a car crash. As the son becomes suspicious of the circumstances surrounding the wreck, he vows to expose the truth and avenge his father's death.America's Son is described as equal parts soap opera and political thriller, which puts it right up Redford's alley. He previously worked on The West Wing as a writer for five seasons, and served as a co-executive producer on ABC's Dirty Sexy Money. [Deadline]
Showtime's Emmy-winning Homeland is adding an Oscar winner to its cast for Season 2. F. Murray Abraham (Amadeus, Scarface) has just booked a key recurring role on the thriller, as "a brilliant intelligence operative" named Dar Adul. The character is described as being in his 60s or 70s, with experience working all around the world for the CIA's Special Activities Division. Details on his relationship to the current characters are scarce, but EW speculates that he could be a mentor to Saul (Mandy Patinkin), as Saul is to Carrie (Claire Danes).
Homeland returns September 30, but don't expect Abraham to show his face so soon. While the Season 2 premiere will feature at least one new guest star in Zuleika Robinson, Abraham isn't set to appear until later in the season. [via Screen Crush]
To fill out its Mafia ranks, Starz' Magic City is turning to the ultimate gangster classic. James Caan, who played Sonny Corleone in The Godfather, is joining the second season of the '60s drama as Sy Berman, a Chicago mob kingpin and boss to Ben Diamond (Danny Huston). This isn't the first time Magic City has dipped into the Godfather well — Caan joins Alex Rocco, who co-stars as Arthur Evans on Magic City.
In addition, the show has also added Esai Morales (NYPD Blue) as a former Fidel Castro loyalist who's now fighting the dictator, and Jamie Harris (The Green Hornet) as a volatile cokehead mobster. Magic City returns to Starz next year. [THR]
Netflix is beefing up its original series offerings with Derek, a new comedy from Ricky Gervais. The pilot for the series aired this past spring on Channel 4 in the U.K., with a full-length first season set to debut early 2013 on the same station. Written and directed by Gervais, Derek stars the comedian as a well-meaning but simpleminded outcast who works in a nursing home. Karl Pilkington, Gervais' longtime friend and colleague, co-stars as the home's caretaker.
Derek will hit Netflix sometime next year. Between this and the new season of Arrested Development, Netflix is looking like the place for comedy nerds to turn to next year. [NYT via Gizmodo]