'The Details' Trailer - Sundance Dark Comedy With Tobey Maguire And Elizabeth Banks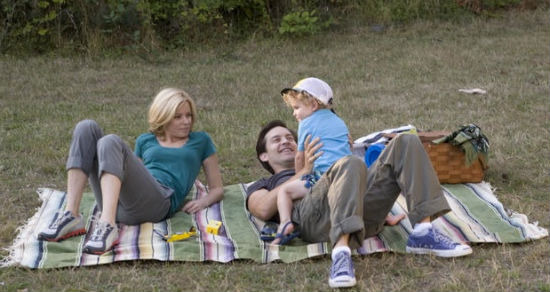 The Details is a dark comedy about a snowball of suburban drama set off by worm-hungry raccoons. Written and directed by Jacob Aaron Estes (Mean Creek), the incredible cast includes Tobey Maguire, Elizabeth Banks, Laura Linney, Ray Liotta, Kerry Washington and Dennis Haysbert. It premiered at Sundance 2011 to solid reviews (/Film included) and was quickly picked up by The Weinstein Company. But, as as you can tell from that description, the movie isn't exactly an easy sell, so onto the shelf it went.The Details has finally been dusted off and is now scheduled for limited release November 2. After the jump, you can watch the first trailer which sells two things: 1. This movie is insane. 2. The movie is really good.Thanks to Yahoo Movies for the trailer.
The set up here is pretty simple. Jeff and Nealy (Maguire and Banks) have it all figured out. They've got money, family and everything in between. What they don't have, though, is a nice backyard. So after they sod the whole thing, raccoons begin to dig it up and drive Jeff crazy. His desire to go all Carl Spackler on the little varmints creates problems with his cat lady neighbor (Linney), his best friend (Washington), her husband (Liotta) and his basketball buddy (Haysbert).
And while it all sounds, and looks, really crazy, somehow it all works. It's certainly dark and uncomfortable at times, plus it never truly goes over the deep end like it could have, but The Details is a fun, interesting dark comedy. There were rumors that while the film was on the shelf, it was being reworked so I'm curious to see the theatrical version. Either way, though, The Details is a film that's well worth your time.
Did you like the trailer?