'Beautiful Creatures' Trailer: Alden Ehrenreich And Alice Englert Aim To Be The New Edward And Bella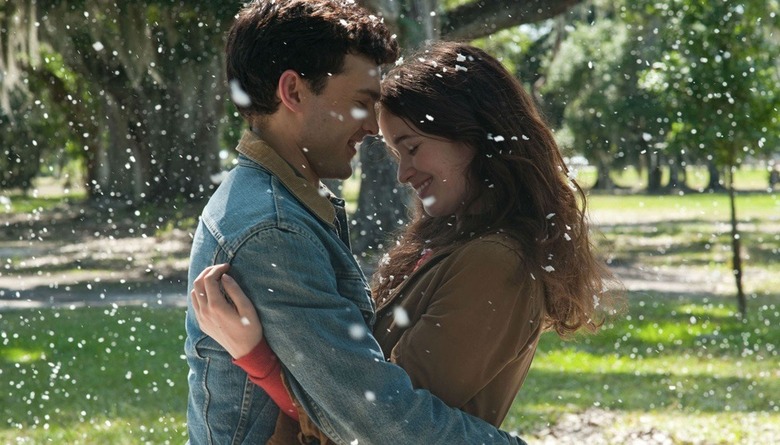 Speculation over which YA property would become the next Twilight has been swirling for some time now — since the first film hit theaters in 2008, really. But with the beloved vampire series finally poised to come to a close this fall, the timing is now more ripe than ever for some other pair of star-crossed paranormal teenager lovers to swoop in and take Edward and Bella's place.
Among the contenders are Ethan (Alden Ehrenreich) and Lena (Alice Englert) of Beautiful Creatures, Richard LaGravenese's adaptation of Kami Garcia and Margaret Stohl's bestselling novel. This time around, it's the guy who's the clueless human newcomer, and the girl who's the mysterious, supernatural local. The surprisingly strong supporting cast includes Viola Davis, Emma Thompson, Jeremy Irons, and Emmy Rossum. Watch the new trailer after the jump.
Naturally, there's more where that came from if Beautiful Creatures looks like your cup of tea — Garcia and Stohl's original novel is the first of a four-book series. Ehrenreich and Englert don't make much of an impression here, but the excellent supporting cast has me hoping (perhaps naively) that there's more to this movie than meets the eye.
Appropriately for a swooning romance, Beautiful Creatures opens February 13.
Synopsis:
A supernatural love story set in the South, "Beautiful Creatures" tells the tale of two star-crossed lovers: Ethan (Alden Ehrenreich), a young man longing to escape his small town, and Lena (Alice Englert), a mysterious new girl. Together, they uncover dark secrets about their respective families, their history and their town. Oscar(R) nominee Richard LaGravenese ("The Fisher King,""P.S. I Love You") directs from his adaptation of the first novel in the best-selling series by Kami Garcia and Margaret Stohl. The film stars Alden Ehrenreich ("Tetro"), newcomer Alice Englert, Academy Award(R) winner Jeremy Irons ("Reversal of Fortune") Oscar(R) nominee Viola Davis ("The Help," "Doubt"), Emmy Rossum (TV's "Shameless") and Academy Award(R) winner Emma Thompson ("Howard's End," "Sense and Sensibility").