Jon Favreau May Direct Ryan Reynolds In 'Battle For Bonneville'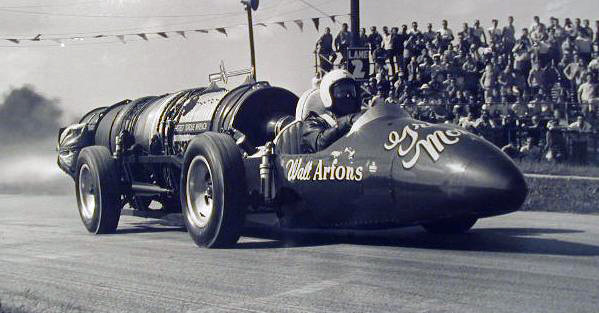 In the year and change since Cowboys & Aliens opened, director Jon Favreau has worked on the TV series Revolution, and prepped Disney's film Magic Kingdom and a feature version of the stage musical Jersey Boys. Nw his name is attached to another project that, like Jersey Boys, is more realistic, in terms of subject matter, than most of the films he's known for directing at this point.
Battle for Bonneville is the story of half-brothers Art and Walt Arfons, who were racing rivals that ultimately competed to set the land speed record in jet-powered car driven on the famous Bonneville salt flats in Utah. The Bourne Legacy co-writer Dan Gilroy scripted, and New Regency is in final talks to pick up the project with Favreau directing and Ryan Reynolds attached to star as one of the Arfons brothers.Deadline says that Battle for Bonneville could follow Jersey Boys.Hemming Muscle Machines describes the mens' history:
Walt and Art Arfons were, at one point, closer than just family. Though technically half-brothers and far apart in age–Walt was born in 1920, while Art came along six years later–both served in the Navy during World War II and both became handy with a wrench while working in Art's father's feed mill in Akron, Ohio. In their off hours, the brothers aimed their mechanical talents toward pursuits including a homebuilt airplane and fixing motorcycles. It wasn't until 1952, when they went to take the airplane for a spin and found the airport's access road blocked off by an organized drag race, that the two decided to build a race car.
But as the two developed their interest in drag racing, they had an acrimonious split, said by some to be due to Art's competitive nature. Each built his own cars for some time, but Walt started using a Westinghouse J-46 jet engine in his cars, as Art tried for the land speed record in his. Eventually the Bonneville salt flats saw the brothers competing in similar vehicles, each driving the other to attain faster land speeds.