'Les Miserables' Extended First Look: Learn The Rigors And Benefits Of Shooting With Live Musical Performance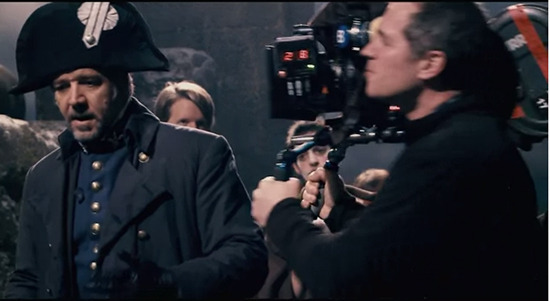 Yesterday Universal moved the opening of Les Miserables to Chrismas Day, and now we've got an extended preview of the film. This isn't quite as epic in scope as the six-minute debut trailer for Cloud Atlas, but it is a nice long look at Tom Hooper's take on the classic musical story that gives a lot more than we saw in the first teaser trailer back in May.
There's a lot of behind the scenes footage here, with an emphasis on the fact that every take was sung live during the shooting of the film. The great bit of the interviews here is that you'll get moments like Hugh Jackman signing alternate versions of one of his key soliloquies. You'll see much more of the cast here, from Jackman and Russell Crowe (playing Jean Valjean and Inspector Javert) to Anne Hathaway, Amanda Seyfried, Samantha Barks, and Eddie Redmayne. You won't really see Helena Bonham Carter or Sacha Baron Cohen, nor will you hear Crowe sing. But all in all, this is great stuff.