Sequel Bits: 'Sin City 2', 'Super Troopers 2', 'Sherlock Holmes 3', 'Indiana Jones 5', 'Ted 2', 'Magic Mike 2', 'The Shining'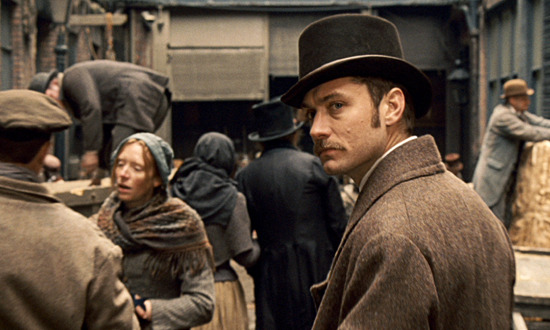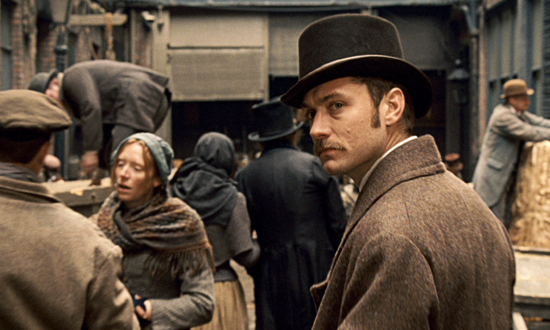 None of these updates are all that major, but there are a lot of them so let's get right to it. After the jump:
Channing Tatum won't direct Magic Mike 2 just yet
Stephen King's The Shining (book) sequel gets dated
Jude Law is totally up for more Sherlock Holmes
Karen Allen reiterates Indy 5 is up to George Lucas
Seth MacFarlane is "thinking about" a sequel to Ted
Men in Black 3 and the trilogy hit Blu-ray / DVD this fall
Rosario Dawson says Sin City 2 will shoot in November
Super Troopers 2 hits legal trouble; Pot Quest still simmering
Reid and I aren't idiots! We're not going to direct our first movie as a sequel to a Steven Soderbergh movie. That's not smart. [...] I want to start with something very small ... make a lot of mistakes, make them real early, and then go jump in [on Magic Mike 2].
That said, Tatum knows that no amount of practice or study can turn him into original Magic Mike helmer Steven Soderbergh.
I could look at how [Soderbergh] uses the camera, how he sets up shots, how he makes his decisions, but at the end of the day, it's really how he sees the world, and we'll never be able to copy Soderbergh. No one can. Even if you tried to copy him, you can't, because it's always going to be a reflection of yourself. It's like love. If you understand love, if you're in love, you'll put your version of love into the movie.
Wise words. Though with Tatum's busy schedule, it's impossible to guess when he'll actually find the time to direct anything, stripper-related or no. [Vulture]
This next bit isn't movie news per se, but seeing as Stephen King movie adaptations are hotter than ever I'm thinking it will be eventually. The master of horror has just announced that Doctor Sleep, his literary sequel to his 1977 novel The Shining, will hit bookshelves September 24, 2013. More details on the plot here. [THR]
Robert Downey Jr.'s currently busy shooting Iron Man 3, but if your tastes run more toward tweedy British detectives than multibillionare superheroes, rest assured a third Sherlock Holmes is eventually coming down the pipeline. Asked whether he knew when the Drew Pearce-written threequel would start shooting, star Jude Law replied:
No I don't yet. I mean there's certainly talk of it and I know there's a script being played around with, but Downey's a busy boy and I'm a busy boy so we'll see. But we want to [do another one]. We're a very happy team and we have a lot of fun and we also think there's still a lot of legs in the duo.
Hit Collider to see the interview.
Producer Frank Marshall may consider Indiana Jones and the Crystal Skull to be the daredevil archaeologist's "last hurrah," but much as we'd love to believe it, ultimately that decision isn't up to him. Steven Spielberg has said all along that "There is no Indy 5 until George says there is," and now star Karen Allen confirms that that that's still the case.
Movies.com asked the actress, who played Indy's love interest Marion, whether she'd be up for a theoretical Indiana Jones 5. Her response:
I would! And I, in fact, just talked with Steven Spielberg recently – we e-mailed back and forth, and I said, "What should I say? I'm doing this publicity, what should I say if people ask me that question?" And he said, "It's in George's [Lucas] hands! I'm game, Harrison's game, and now it's up to George to write the script or to get the script organized, and the story." And so I think it's – they want to do a fifth, from what I understand, but they don't want to do it just to do it, they want to do it if they can come up with a story that everybody is happy with and that everybody likes.
Unfortunately for us, I'm guessing "everybody" in this context does not include fans who hated Crystal Skull.
Universal has been verrrrry eager to get the cameras rolling on a follow-up to Ted, but writer/director Seth MacFarlane's feelings about the matter have been somewhat more difficult to gauge. In response to TMZ's question about a Ted 2, MacFarlane would only say that "we're thinking about it."
However, he did reveal that he'd been hanging out with Ted co-writers Alec Sulkin and Wellesley Wild — so fans of the foulmouthed bear are free to remain cautiously optimistic. [THR]
That Men in Black 3 is hitting Blu-ray / DVD this November isn't a surprise, but hardcore fans of the franchise can also spring for a Men in Black Trilogy Limited Edition Blu-ray set. Both versions will hit shelves November 30. Head to Cinema Blend for more details on the Blu / DVD extras.
Sin City 2 has been rumored for so long it's almost hard to believe it's really happening this time, even though the project's gotten as far as casting. But Rosario Dawson, who'll reprise her role as Gail, says not only is Sin City 2 pressing on ahead, it's scheduled to start shooting in November.
"I'm not sure if I'm supposed to say that, but I'm going to say November, I'm going to be honest and put it out there," she said. "It's very soon. Very excited." Hopefully that gives director Robert Rodriguez plenty of time to hit the October 4, 2013 release date that Dimension Films announced earlier this year. [MTV]
Broken Lizard member Kevin Heffernan told press last month that Super Troopers 2 could shoot as early as this year, but it appears that estimate was a bit optimistic. Director Jay Chandrasekhar's latest update is a little less encouraging.
"We have a legal situation we have to sort of resolve with Fox, before Super Troopers 2 can happen," he said. "We're close to some resolution, one way or another. We don't know. We hope so."
Pot Quest (formerly Potfest), on the other hand, isn't quite as far along, but has the advantage of not being tied up in legal drama. "In terms of Pot Quest, we just really have to write it. We're a little stacked up on other jobs right now, but I have opened the file and started typing away on it," Chandrasekhar revealed. "I believe both movies will happen, it just may be a little while."