'Tower Block' Trailer: A Sniper Turns Home Into Hell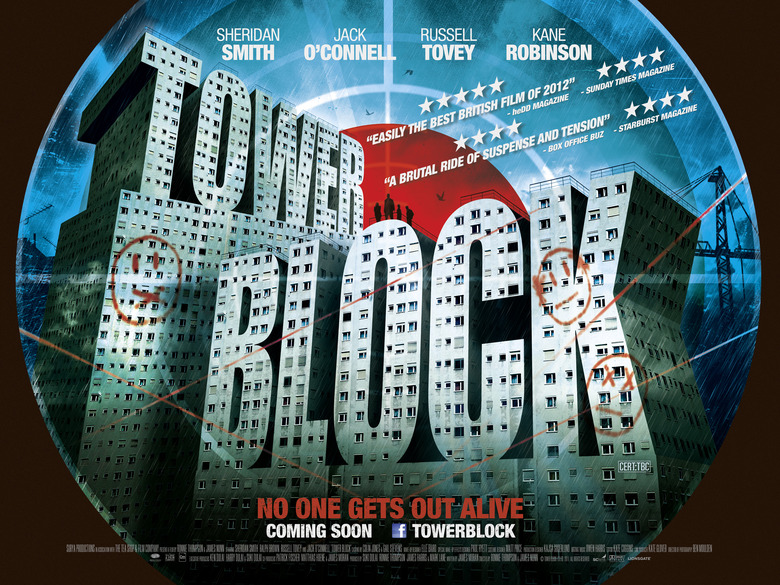 We've seen a few thrillers and action films set in apartment blocks over the past year, from different countries: Attack the Block, The Raid, and Dredd are the major ones. Now add Tower Block, which hinges on a slightly contrived premise, but provides some good thrills in the middle section.
The idea is that residents of the top floor of a soon to be demolished block are refusing to leave. They come under fire — literally — when a sniper begins picking off the top floor inhabitants from the cover of another building. With exits blocked and the sniper ready to take out anyone who ventures near a window, a quickly shrinking group has to find their escape. The contrivance is the fact of the residents' impending eviction, which conventiently empties the rest of the building. But once things get cooking, some gory, tense, and fun stuff goes down. Check out a trailer below.
Sheridan Smith (Mrs. Biggs), playing the sorta-Final Girl Becky, and Jack O'Connell (Skins), as the total douchebag chav stereotype Kurtis, are the cast standouts. James Nunn and Ronnie Thompson directed. Tower Block has played the UK Film4 FrightFest, and hits Fantastic Fest and a regular UK booking this week; Twitch has the trailer.
The last remaining tenants of a deteriorating, soon-to-be-demolished tower block must band together to survive when a killer with a high-powered sniper rifle starts picking them off through the windows of their flats.