'Wake In Fright' Rerelease Trailer: The Outback Will Destroy You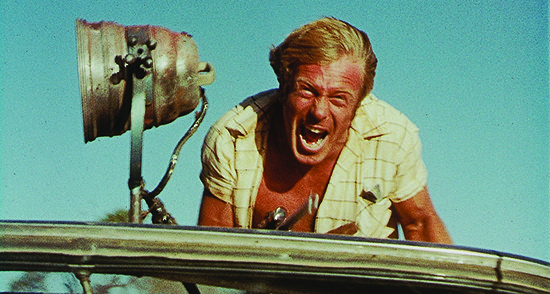 I'm pretty excited to have a look at the new trailer for the remastered re-release of Wake in Fright, directed by Ted Kotcheff (First Blood, Uncommon Valor). The thriller, about a British teacher who loses himself while stranded in the Australian outback, emerged from Australia in 1971 at the Cannes Film Festival, where it earned raves and began to amass a following of eager cinephiles. But the movie got only a minor release in the US (as Outback), and while Australian audiences have grown to know it as a classic, here in the States few people know of it. (I was lucky enough to be given the Australian DVD by a friend from Sydney a couple years back.)
Drafthouse Films is changing that this fall with a new 40th Anniversary release of the movie. If you've seen other Australian New Wave films and thought the country looked like a wild, strange place, this trailer and film will only enhance that notion. It's a great look at a film that deserves a wider audience.
Wake in Fright plays New York on October 5 at The Film Forum; October 19 at The Nuart in LA; and will have a national release to follow in major cities after screening at Fantastic Fest 2012 this week. VOD and disc releases will follow in early 2013.
Alongside MAD MAX and WALKABOUT, WAKE IN FRIGHT is widely acknowledged as one of the seminal films in the development of modern Australian cinema. Directed by Ted Kotcheff (RAMBO: FIRST BLOOD), the film tells the story of a British schoolteacher's descent into personal demoralization at the hands of drunken, deranged derelicts while stranded in a small town in outback Australia. Virtually unseen in the United States and reknowned in its home country after years of neglect, WAKE IN FRIGHT is ripe for rediscovery and returns to cinemas beginning with engagements at Film Forum in New York City on October 5th, The NuArt in Los Angeles on October 19th and expanding to additional markets before a home video and VOD release in Q1 of 2013.