Watch Oscar Isaac Perform "Dink's Song" From The Coens' 'Inside Llewyn Davis'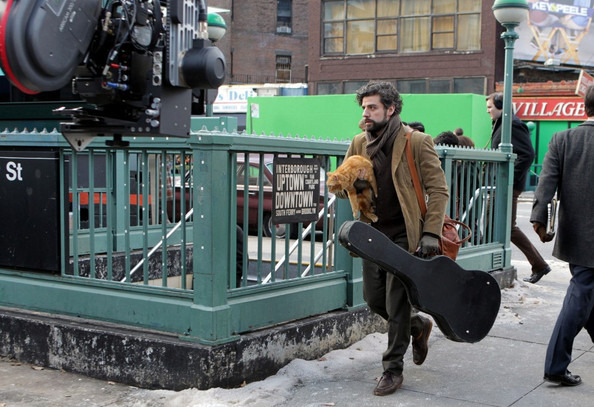 Inside Llewyn Davis gets a spot on our most-anticipated list simply because it's a new Coen Brothers project, but so far it's been tough to get a good sense of what the film will actually be like. We've seen a few stills and have a basic idea of the premise, but no clips, teasers, or trailer have been revealed as of yet.
Over the weekend, however, actor Oscar Isaac offered another tantalizing taste of the goods to come during an event for his other new movie 10 Year. Isaac, who plays the titular '60s folk singer in the Coens' movie, picked up a guitar to perform "Dink's Song" from the Inside Llewyn Davis soundtrack. Watch it after the jump.
[via Coming Soon]
The folk tune "Dink's Song" has been covered by a number of high-profile artists over the years including Pete Seeger, Bob Dylan, and Jeff Buckley — as well as Dave Van Ronk, on whom the character of Llewyn Davis is based. We don't know yet how the song will fit into the movie, but it is abundantly clear that Isaac has the musical chops to lead the film. Scripted by the Coens, the plot follows down-on-his-luck Llewyn through the New York folk scene of the 1960s. Carey Mulligan, Garrett Hedlund, Justin Timberlake, and John Goodman also star.
As for when we'll get to see the rest of Isaac's performance, the star hinted that the film could hit theaters by the end of the year. The news, if true, comes as a bit of a surprise. Inside Llewyn Davis has yet to announce a domestic distributor, and hasn't been named in any of the lineups for the season's remaining festivals. But with a few months to go til the end of the year, it's definitely possible Isaac's prediction will come true, particularly if he knows something we don't.