Early Buzz: Comedian/Podcaster Marc Maron Discusses Judd Apatow's 'This Is 40'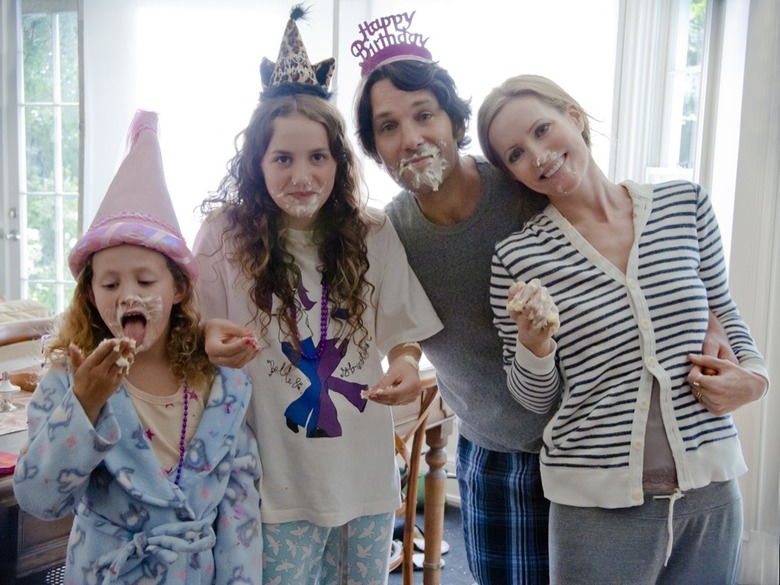 Testing a film with a live audience is a huge part of Judd Apatow's filmmaking process. Finding the biggest laughs and gauging reactions is treated as an additional round of editing for the writer/director/producer. The danger in that is, even though most people sign non-disclosure agreements, word is bound to leak out early. So while This is 40, Apatow's latest film, won't hit theaters until Christmas, the first review has made it online in a very non-traditional place.
Comedian Marc Maron, best known for his hugely popular WTF Podcast, was among a star-studded early audience invited to see the "sort of sequel" to Knocked Up starring Paul Rudd and Leslie Mann and talked about it on his show. Read his quotes and more after the jump.
Thanks to CriticWire for pointing this out and the following transcription of Maron's podcast, which you can download here.
The movie was interesting because Judd basically made an autobiographical movie, with his wife [Leslie Mann] and his children [Maude and Iris Apatow], and a guy [Paul Rudd] playing him. That takes some big balls to do that; to watch another man make out with your wife and parent your children onscreen for two hours. And some of it was very revealing. There were some funny moments, there were some touching moments, there were some uncomforable moments. But it's a very personal movie.
"Funny," "touching," "uncomfortable." Yup, sounds like an Apatow movie. As a fan, I'm really looking forward to it. Here's the official plot description which tells you nothing, so watch the trailer after that:
Writer/director/producer Judd Apatow (The 40-Year-Old Virgin, Funny People) brings audiences This Is 40, an original comedy that expands upon the story of Pete (Paul Rudd) and Debbie (Leslie Mann) from the blockbuster hit Knocked Up as we see firsthand how they are dealing with their current state of life.
Also at the screening: Pee-wee Herman, Andy Samberg, and Jon Favreau, who tweeted, "I'm living it." Do you trust their opinions?