Sequel Bits: 'Skyfall', 'Scary Movie 5', 'Human Centipede 3', 'Cabin Fever: Patient Zero', 'Breaking Dawn: Part 2', 'Universal Soldier', 'Taken 2', 'Resident Evil 6'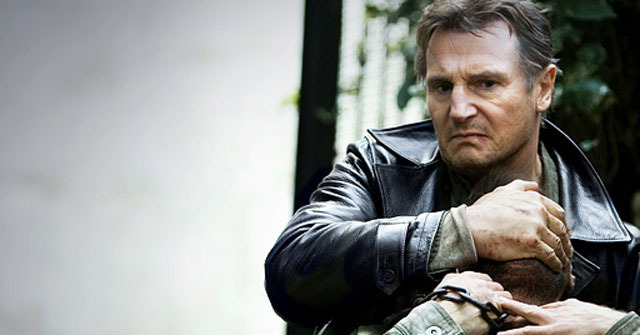 My favorite Sequel Bits are the ones with a little something for everyone, like this one. After the jump:
Lindsay Lohan tries to get out of Scary Movie 5
Looks like Adele will be singing the Skyfall theme
Human Centipede 3 will have a 500-person chain
Lydia Hearst boards Cabin Fever: Patient Zero
Breaking Dawn Part 2 tickets to go on sale in October
See the Universal Soldier: Day of Reckoning trailer
Maggie Grace goes on the run in a new Taken 2 clip
Paul W.S. Anderson would do a sixth Resident Evil
According to the Post, Lohan eventually reported for work "at the 11th hour" after being threatened with a lawsuit. For their part, Lohan's reps insist the actress is "willingly fulfilling all of her obligations." So if Scary Movie 5 doesn't wind up featuring a Lohan cameo after all, now you know why. [via Screen Crush]
Rumors that Adele would be singing the Skyfall theme have been flying around for a while now, and as of today Showbiz 411 says it's confirmed. MTV UK offers some additional evidence to bolster that claim, pointing out that the songstress has been spotted around London's Abbey Road studios, where composer Thomas Newman is working on the score.
Adele follows Jack White and Alicia Keys, who performed the theme for Quantum of Solace, and Chris Cornell, who was behind the Casino Royale track. But I suspect Adele will prove to be the best pick yet. Not only is she British and insanely popular, her retro-soul voice fits the Bond image to a T. Skyfall opens November 9 in the U.S. and October 26 in the U.K. [via The Film Stage]
In case you were wondering, Tom Six is still really excited about doing a 500+ plus person chain for Human Centipede 3. In a recent press release, producer Ilona Six (sister of Tom) wrote:
For all you fans of the Centipede Sequence Series, Principal photography on Human Centipede 3 will take place in the Southern states of the U.S and Writer-director Tom Six himself will play a supporting role in the film. The American finale will be 100% politically incorrect and will answer questions left lingering from the first films. The Human Centipede 3 will have a 500+ person pede. XXXXL American style!
I wonder if I should be insulted that the Sixes think there's something essentially "American" about stitching hundreds of people together mouth-to-anus. [Twitch]
Lydia Hearst has signed on for Cabin Fever: Patient Zero, the first of two planned sequels to Eli Roth's 2002 horror film. She joins Sean Astin, Brano Eaton, and Mitch Ryan. Shooting will begin in the Dominican Republic this November.
Comic book artist Kaare Andrews is directing from a script by Jake Wade Hall, which sees a bachelor party cruise running into a medical research island. When a deadly virus is accidentally unleashed, the passengers must fight for their lives. Hearst will play an eager grad student "aligned" with Astin's antagonist.  [THR]
You all have made it perfectly clear in the comments that the overlap between /Film readers and Twihards is vanishingly small. But should be interested to see the last installment of The Twilight Saga for whatever reason, tickets for Breaking Dawn Part 2 go on sale on Fandango and MovieTickets.com October 1, six weeks before the movie's November 16 release. And if that's not enough sparkly vampire action for you, select theaters are also planning a Twilight marathon with all five films of the series. Check your local theater listings for more info. [Deadline]
Call it an Expendables mini-reunion. Scott Adkins, Dolph Lundgren, and Jean-Claude Van Damme are teaming up once more for Universal Soldier: Day of Reckoning, an actioner directed by John Hyams. Adkins plays the recently comatose John, whose family have been brutally slaughtered by Luc Deveraux (Van Damme). Lundgren plays the undead leader of the Universal Soldiers, an army of genetically enhanced warriors.
Universal Soldier: Day of Reckoning hits On Demand October 25 and theaters November 30. [iTunes via Collider]
After getting taken in the first Taken, it looks like Maggie Grace gets to be much more of a badass in Taken 2. She is her father's daughter, after all. In a new clip, Liam Neeson offers encouragement and instruction via cell phone as Grace zips around town.
Taken 2 opens October 5. [Jo Blo]
To the surprise of absolutely no one, Paul W.S. Anderson tells Collider he'd like to do another Resident Evil movie. Where the series might go after that is less clear, however. Anderson says the sixth movie (or the end of the second trilogy, if you want to think of it that way) "will be the one that brings the franchise to a climax and a close." Watch the interview below:
Resident Evil: Retribution, i.e., Resident Evil 5, opens this weekend.