'Stand Up Guys' Trailer: Al Pacino, Christopher Walken, And Alan Arkin Go On One Last Bender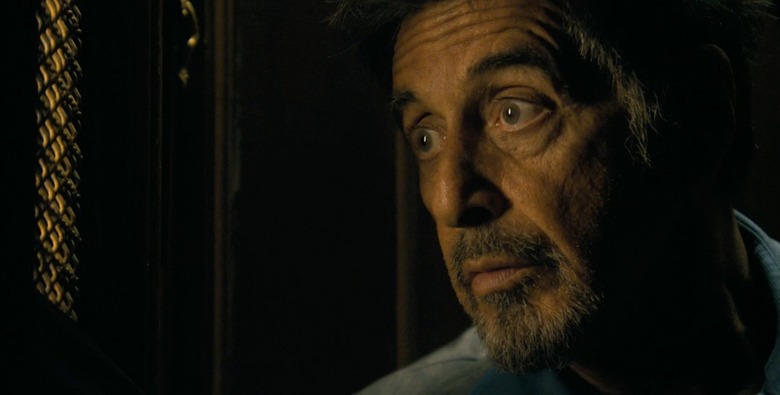 Under most circumstances, a movie about Christopher Walken, Al Pacino, and Alan Arkin indulging in an all-night bender complete with hard drugs, pretty girls, and grand theft auto would sound like a hoot. But along comes
Hector Salamanca
Mark Margolis to make it sad.
Fisher Stevens' Stand Up Guys starts with Val's (Pacino) release from prison after nearly three decades. He reconvenes with his old pals Doc (Walken) and Hirsch (Arkin) for a wild night on the town, and on the surface it seems their bond is as strong as ever. In truth, however, Doc is under strict orders to take Val out. As morning approaches, so does his moment of truth. Julianna Margulies also stars. Watch the trailer after the jump.
[Yahoo!]
The undercurrent of melancholy gives Stand Up Guys more depth than your typical "old people doing crazy things" comedy, and the top-notch cast seems to keep the film steady as the tone veers from light to dark. But something about this particular trailer has me underwhelmed. Granted, we've seen these stars in much, much worse (Jack and Jill, anyone?), but despite an intriguingly bittersweet premise, Stand Up Guys doesn't look particularly memorable.
Stand Up Guys will be one of 2013's very first releases, with an opening scheduled for January 11. We'll hear about it much sooner, however, as the film will open this year's Chicago Film Festival on October 11.
Synopsis:
Val is released from prison after serving twenty-eight years for refusing to give up one of his close criminal associates. His best friend Doc is there to pick him up, and the two soon re-team with another old pal, Hirsch. Their bond is as strong as ever, and the three reflect on freedom lost and gained, loyalties ebbed and flowed, and days of glory gone by. And despite their age, their capacity for mayhem is still very much alive and well – bullets fly as they make a hilariously valiant effort to compensate for the decades of crime, drugs and sex they've missed. But one of the friends is keeping a dangerous secret- he's been put in an impossible quandary by a former mob boss, and his time to find an acceptable alternative is running out. As the sun rises on the guys' legendary reunion, their position becomes more and more desperate and they finally confront their past once and for all.