Festival Horror Hit 'You're Next' Gets August 2013 Release Date; Director Talks Sequel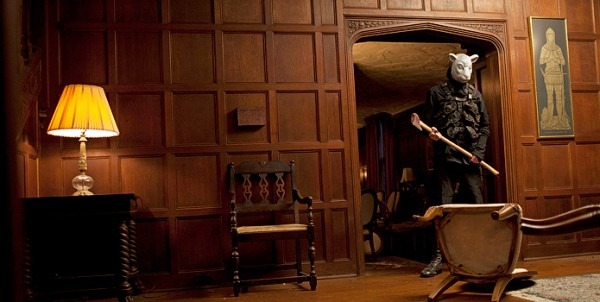 Adam Wingard's You're Next is one of those horror movies with potential to change the genre. At least, that was the sentiment coming out of the 2011 Toronto International Film Festival where the film premiered. After a heated bidding war, Lionsgate
  and subsequently shut it down, limiting it to just
one additional festival screening
 at Fantastic Fest 2011.
. The rumor was it would be released in October 2012 which, obviously, isn't happening.
Wingard and his writer Simon Barrett have since gone on to other things (V/H/S, The ABCs of Death) mostly unaware of what was going on with their completed home invasion horror story. Now, finally, Lionsgate has scheduled the film: August 23, 2013. It's a long way off, but it's also a prime late summer slot where horror movies can really shine.
Read more, including Wingard's comments about a possible sequel, after the jump.
broke the news of the release date.
A few weeks back, I spoke to Wingard about The ABCs of Death (look for that interview soon) and at the time he expressed disappointment, but understanding, at Lionsgate's delay of the film. One of the reasons he was okay with it, though, was he has a great idea for a sequel and the delay would mean he'd actually be able to work on it:
I think I have a really fun idea for a sequel and, I mean, the thing about it is maybe it's going to work out, because maybe the film will come out and even if it's a little bit later than October and if it does well and a sequel is greenlit, maybe at that point we would feel more comfortable coming back as a team and doing it. Whereas right now, if the movie was going to go into production, we would probably try to tailor it for another director and writing team for a rewrite. Maybe if the timing works out and we feel, career-wise, comfortable enough to jump into a sequel, which obviously is a risky thing, but the idea that we have I think is such a fun kind of approach to a sequel. Basically we would take it like the first movie is ALIEN and the next movie is ALIENS.
The premise of You're Next is simple. A family has a reunion at their house in the woods only to be terrorized by a mysterious group of men in animal masks. All hell breaks loose. It's scary, funny, violent and fun. Here's my video review from Fantastic Fest 2011 with Erik Davis of Movies.com.
Late summer is usually a good spot for horror because kids are still out of school and competition is scarce. Lionsgate used the strategy to great success this year, releasing The Possession and turning it into a nice little hit. So while the wait for You're Next is long, it should be worth it.
Are you excited to finally hear an update on You're Next?