'Transformers 4' Will Feature New Robot Cast, In Effort To Boost Toy Sales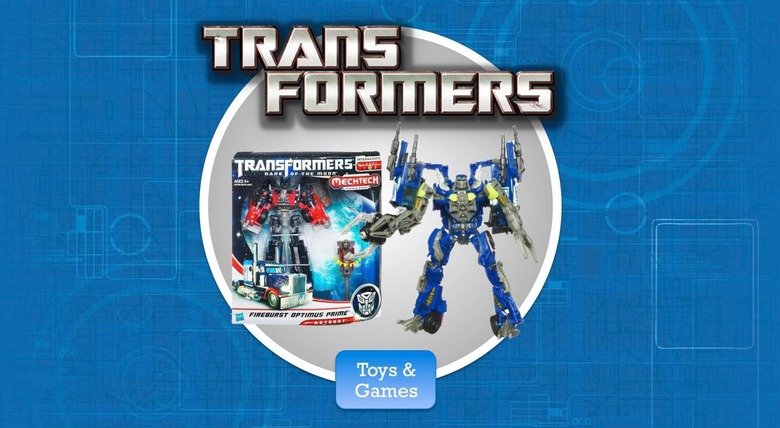 Over the past five years, we've seen Hollywood try to develop films around pretty much every brand-name toy they could get their hands on — only to have many of those projects postponed, slashed, or even scrapped altogether. Through it all, however, the franchise that actually started the toy movie craze has remained strong. In fact, the third and most recent entry of the Transformers franchise proved to be the most lucrative yet, raking in an impressive $1.1 billion worldwide.
But the point of the Transformers movies were never just to line studio execs' pockets or turn Shia LaBeouf into a household name. As you can guess from Hasbro's active involvement, the idea was also to sell a lot of toys. And on that front, apparently, the last film's performance was disappointing. So Hasbro's trying a little something different with Transformers 4, bringing in a whole new cast of robot characters. More details after the jump.
Hasbro's reasoning is that Transformers: Dark of the Moon action figures didn't sell well because the two previous films had also featured the same characters. That is, a kid who picked up Optimus Prime from Toys 'R' Us in 2007 after seeing the first Transformers movie probably wouldn't be inspired to purchase another Optimus Prime in 2011 after seeing the third one. Therefore, Hasbro believes, introducing fresh characters to the lineup should boost toy sales.
As far as I can tell, Goldner did not explicitly confirm that Optimus Prime and the gang wouldn't appear at all in the new film. Nor did he say whether Transformers 4 would introduce totally original characters, or simply draw from established toy characters who've not yet been featured in the movie franchise.
However, he seems clear that the next plotline will center around the new characters instead of picking back up with the robots we met in the first three movies. Though we've long known that Transformers 4 would include a fresh human cast and a redesigned robot lineup, I believe this is the first we're hearing of an entirely new robot cast.
Goldner also unveiled a new logo for Transformers 4. It's not much to look at, but since we're already on the topic...