'Heathers' To Be Reborn As TV Series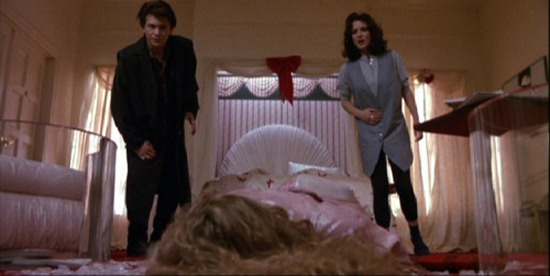 There are two ways to reboot classic film properties: when its something that could move a lot of merchandizing or somehow attract a broad audience, go for theatrical. With something that has a more focused appeal (or recognizance) — say, to audiences over 30 — go for television.
And so we have a Heathers TV show in development at Bravo, based on the 1988 cult fave film that helped launch the careers of Christian Slater and Shannon Doherty, and cemented the popularity (har!) of Wynona Ryder. Slater plays a James Dean wannabe whose messed-up home life has led to a certain sociopathic nature; he and Ryder meet in high school, fall for each other, and proceed to kill off all the popular kids. As one does.
The movie wasn't a runaway success, but it turned into a big deal for audiences outside the mainstream, and had a nice little counterculture impact, skewering as it did many of the social conventions of the mid-'80s. (Or at least the media depiction of those conventions; I'm not sure how many high schools were exactly like the one in Heathers.) So what shape does the story take as a TV show now?
Some of you may remember that we reported on a possible Heathers TV series way back in 2009, and indeed this is from the same producer (Mark Rizzo) who was working on it back then. Here's what the Bravo press release says about the show:
From Sony Pictures Television and writer and executive producer Mark Rizzo (The Man Date, Zip), executive producer Jenny Bicks (The Big C, Men In Trees) and Tom Rosenberg and Gary Lucchesi serving as executive producers for Lakeshore Entertainment.
Present day update of the cult classic 1980's film that picks up 20 years later with Veronica (played by Winona Ryder in the film) moving back to Sherwood with her teenage daughter, who enters high school to deal with the next generation of mean girls, the "Ashley's," daughters of the surviving "Heathers."
Heathers Reborn, indeed. That sounds... well, like a very mediocre premise. TV has a way of stretching just about any premise into a viable show, if the right people end up working together, so this one might turn out OK. But just as a pitch, it doesn't have my interest. Not that the theatrical Heathers sequel Ryder talked about for some time seems like a better idea. (That one isn't happening, to be clear.)
Here's the rundown on the other four shows announced by Bravo today, just for the sake of completion:
The Apartment (working title)
From Uni TV and writer and executive producer, Jessica Queller (Gossip Girl, Gilmore Girls, Felicity) and executive produced by Karey Burke and Todd Holland (Go On, Free Agents) for Dark Toy Entertainment
After the death of their mother, two 20-something siblings unexpectedly inherit the love nest where their mother had an 18 year affair.  After the initial shock that their mother was not who they thought she was, they begin to rent out the beautiful Upper West Side apartment to people who want a private space to have their own extra-marital affairs.
The Darlings (working title)
From Fox Television Studios and written and executive produced by Stu Zicherman (Lights Out, Six Degrees, What About Brian).  Sarah Condon (Bored to Death) serves as executive producer.
Based on the acclaimed novel by Cristina Alger, the show is set on Manhattan's Upper East Side, where a high-society family is pulled into a financial scandal after a business partner's Ponzi scheme unravels, which drives him to suicide and exposes all of the family's and company's secrets.
All American Girl
Produced by Fox Television Studios. Executive-produced by Chris Weitz, Paul Weitz and Andrew Miano for Depth of Field. Written by Jenni Ross (Hot Mess, featured on Black List)who also serves as co-executive producer.
Based loosely on Ross's mother's stint as Fashion Editor at Seventeen magazine in the 1970s, drama spans three time periods and centers around three women who all work at the female lifestyle magazine All American Girl.  Show tracks the changing points of view of women in the workplace, feminism and asks the question "can women have it all?"
Rita
Produced by Fox Television Studios.  Written and executive produced by Krista Vernoff (Shameless, Grey's Anatomy, Private Practice, Wonderfalls) with Henrik Bastin and Mikkel Bondesen  (Burn Notice, The Killing) serving as executive producers for Fuse Entertainment 2.0.
An adaptation of the Danish format of the same name, this family drama follows an acerbic, outspoken private school teacher who struggles to raise her own three teenage children while dealing with the inane bureaucracy and overprotective parents at her school.