'Entourage' Movie Script Just About Done; Plot Picks Up Six Months After The Finale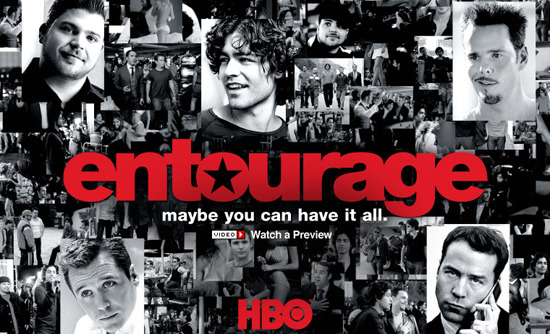 As just about every cancelled series (and even some of the non-cancelled ones) vows to come back as a movie, one popular property's actually making a bit of progress. Doug Ellin has revealed that his Entourage screenplay is nearing completion, and by "nearing" we mean "just about at" — Ellin says he plans to have the thing done by Sunday.
Those who saw the finale may recall that Entourage ended with a cliffhanger of sorts, as Ari Gold (Jeremy Piven) got the call to take over as the CEO of Time Warner. According to Ellin, the Entourage movie will jump forward six months to see Ari settling into his new position as a studio head. But naturally, some things never change: Vince (Adrien Grenier), Drama (Kevin Dillon), E (Kevin Connolly), and Turtle (Jerry Ferrarra) remain close friends, with a steadfast passion for partying. More after the jump.
So with Ellin working on page 110 of his script, where do all the main characters stand? "There are interesting developments about Ari as a studio head, and that's still the first page for me. But foremost is the friendship between the guys who are still hanging out and going to fun parties, and it continues with the same characters," he explained. That description doesn't tell us a whole lot about the plotline, but it sounds like Entourage, all right.
Ellin also told the site that the movie sequel would feature the same "Hollywood send-ups and snark" that made the show a hit. If that means the film adaptation is turning back toward the sharp satirical humor of the earlier seasons and away from the lazy, self-congratulatory tone that plagued its later ones, I suspect fans will be all for it. Perhaps even the fans who dropped the series from their DVRs once the quality took a dive.
Discuss: Will you come back for Entourage: The Movie?