First Video: 'The Place Beyond The Pines,' Starring Ryan Gosling And Bradley Cooper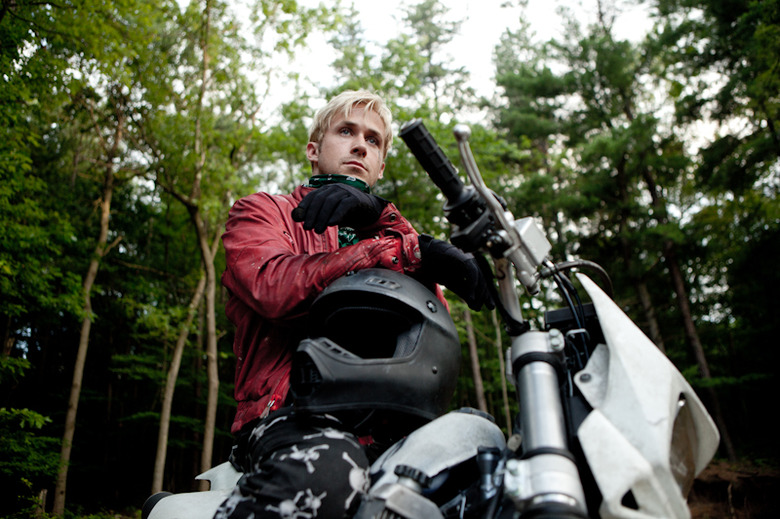 We've tracked The Place Beyond the Pines for a couple years now. As the new film from Blue Valentine director Derek Cianfrance it comes with a lot of interest pre-loaded, and the fact that Ryan Gosling plays a motorcycle stunt driver turned bank robber doesn't hurt. Bradley Cooper is the cop who opposes him, and their conflict spills down into another generation, as their sons are drawn in as well.
The film turned into one of the hottest tickets at this year's Toronto Film Festival, and while reviews have been enthusiastic with a few naysayers mixed in, Focus jumped on the film with a 2013 release set. Now we've got two video looks at the film. One is a slate of interviews that also has footage cut in, and the other is a straight-up clip from the film, featuring Bradley Cooper's character as he recovers from what seems to be an arrest gone bad. See both below.
The Playlist points us to the first clip:
This second clip is from Hitfix:
Vulture also has a great interview with Cianfrance where he talks about how real-life experience intersected with the design of the film. For instance, he describes shooting footage with Gosling doing his own motorcycle driving work:
We were doing a lot of long takes in the film, because I always think whenever you cut, there's a lie. So we would have these long takes where Ryan would have to park his bike, go into a bank, rob the bank, get on his motorcycle, go into traffic, be pursued by a police officer, and go into an intersection and narrowly avoid 36 cars. And we had to shoot that scene 22 times. Every time we went through the intersection I felt like he was gonna crash, you know?
And they consulted with a real bank robber to get info about how those robberies typically go down:
And all of a sudden the police showed up at our office with a guy and they're like this is so-and-so, he just got out of jail, he robbed twenty banks in Schenectady. He was like, "What's going on guys, I was just working at the tree nursery and these cops came and picked me up. What do you want?" He said the thing that movies always get wrong about robbing a bank is that they're perfect in movies, but in real life robbing a bank is really messy. And he told us every detail. So we tried to make it true to that. When we robbed the banks, we cast bank tellers who'd been robbed before.
Here's the synopsis:
Luke (Ryan Gosling) is a professional motorcycle rider who turns to bank robberies to support his newborn son. But when he crosses paths with a rookie police officer (Bradley Cooper), their violent confrontation spirals into a tense generational feud. The Place Beyond the Pines is a rich dramatic thriller, tracing the intersecting lives of fathers and sons, cops and robbers, heroes and villains.