Sequel Bits: 'Finding Nemo 2', 'Hangover 3', 'Kick-Ass 2', 'Scary Movie 5', 'Silent Hill: Revelation 3D', 'Red 2'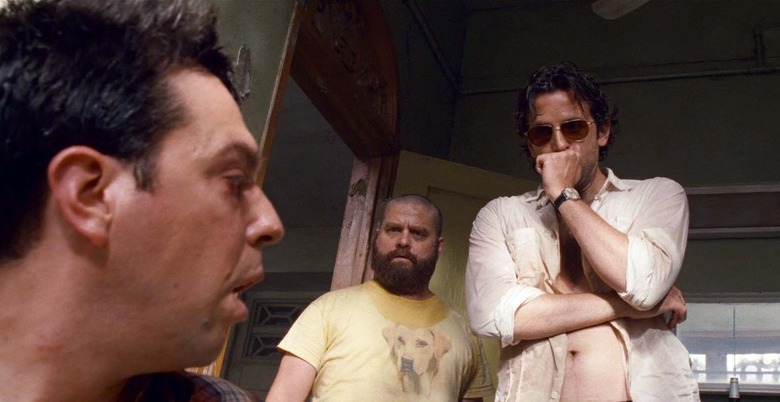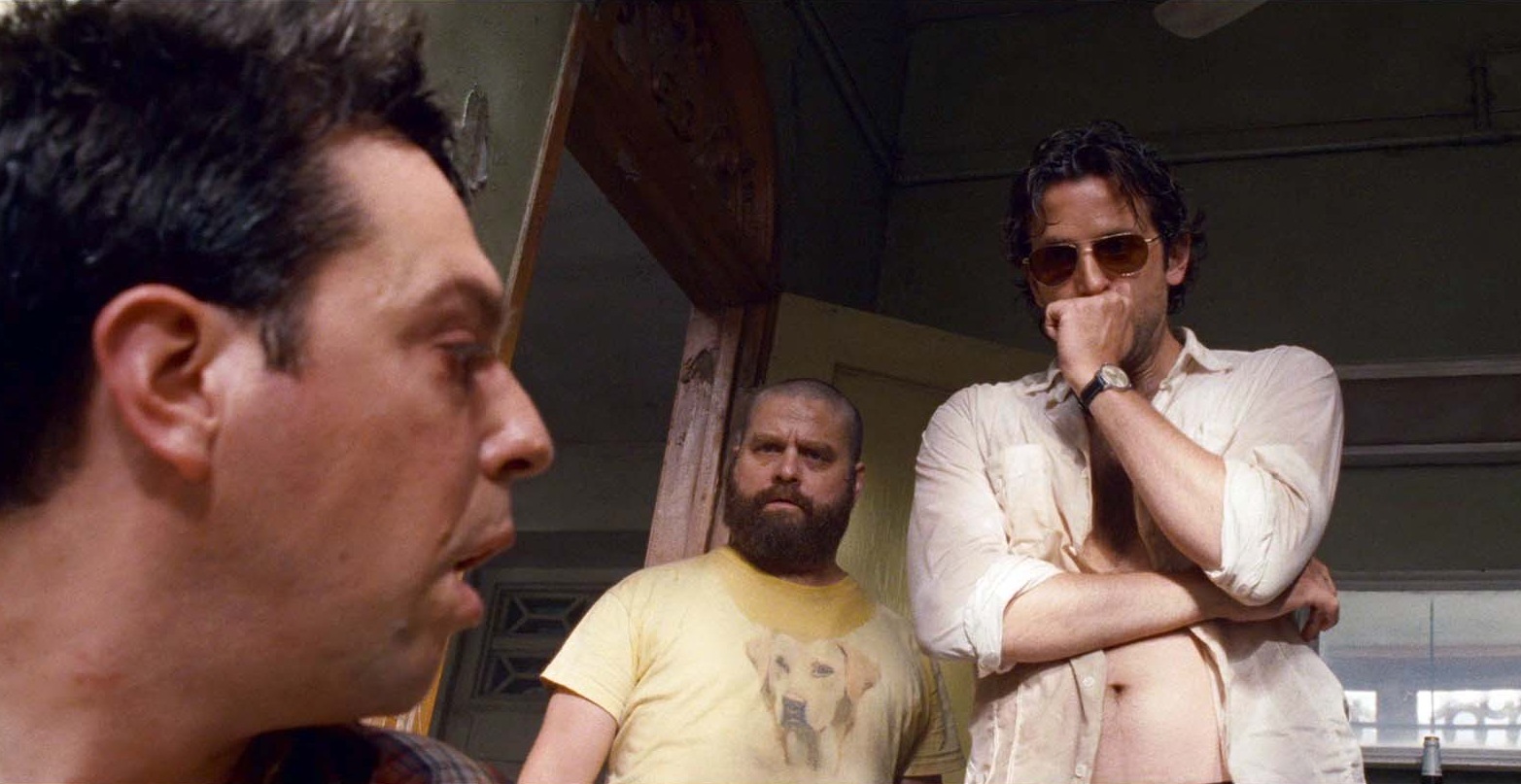 A mostly lighthearted Sequel Bits covers everything from fish- and family-friendly animated adventures to R-rated wolf pack shenanigans. After the jump:
Andrew Stanton's next project is Finding Nemo 2
The Hangover Part III is now shooting in Los Angeles
Heather Locklear and Molly Shannon join Scary Movie 5
David Thewlis will play The Frog in Red 2
Olga Kurkulina is Mother Russia in Kick-Ass 2
The Rock destroys a ceiling in new Fast Six pic
Silent Hill: Revelation 3D has a new poster
What was immediately on the list was writing a second 'Carter' movie," he said. When that went away, everything slid up. I know I'll be accused by more sarcastic people that it's a reaction to 'Carter' not doing well, but only in its timing, but not in its conceit.
Head over to LA Times to read their full piece on Stanton, which is definitely worth a read if you're a fan of his.
Stu, Phil, and Alan may have trouble getting to weddings on time, but the production of The Hangover Part III is actually running a little bit ahead of schedule. Principal photography has just begun in Pasadena, CA on the comedy sequel, a few day earlier than its expected September 16 start. Shooting is also planned for Tijuana and Las Vegas.
Although Warner Bros. has yet to release an official synopsis for the movie, today's press release suggests that, as previously rumored, the threequel will deviate from the pre-wedding setup of the last two films. "This time, there's no wedding. No bachelor party," the statement reads. "What could go wrong, right? But when the Wolfpack hits the road, all bets are off."
Todd Phillips is back in the director's chair for the third and final entry in the Hangover series, while Bradley Cooper, Zach Galifianakis, and Ed Helms reprise their roles as the unlucky partiers. The Hangover Part III will hit May 24, 2013. [Business Wire, On Location Vacations]
Heather Locklear and Molly Shannon are joining Ashley Tisdale in Scary Movie 5, which (as promised) features a belated riff on Black Swan. Locklear will channel Barbara Hershey as the terrifying, overbearing mother to Tisdale's young dancer, while Shannon has been cast in the Winona Ryder role of an aging dancer. Malcolm Lee is directing the film, which opens April 19, 2013. [Deadline]
Dean Parisot is beefing up his all-star Red 2 cast with some new names, and his latest addition is David Thewlis. The Brit actor, best known as Remus Lupin from the Harry Potter series, will play an information dealer called The Frog. The nickname comes from an incident in which he used a poisonous Amazonian frog to contaminate the water supply at the Kremlin.
Thewlis joins a handful of other franchise newcomers including Anthony Hopkins, Catherine Zeta-Jones, and Byung-hun Lee. Bruce Willis, Helen Mirren and John Malkovich will lead the cast once again. Red 2 will shoot this fall in Montreal for an August 2, 2013 release. [THR]
Jeff Wadlow's photos from the set of Kick-Ass 2 last week offered our first glimpse at Mother Russia, but the angle made it difficult to verify the actress' identity. After digging around a bit, however, the folks at Bleeding Cool have figured it out. Bodybuilder Olga Kurkulina (not to be confused with actress Olga Kurylenko) confirmed her casting as the imposing ex-KGB agent in an interview with Iron World. Check out a picture of her with someone who appears to be stunt coordinator Buster Reeves below: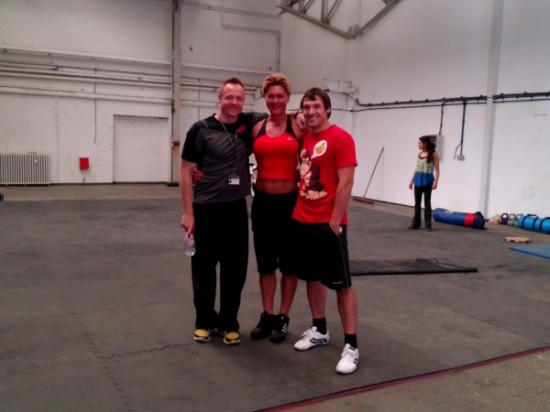 Kick-Ass 2 marks Kurkulina's cinematic debut. Also starring Aaron Taylor-Johnson, Chloe Moretz, and Christopher Mintz-Plasse, Kick-Ass 2 opens June 28, 2013.
No matter how carefully you plan out an action movie's stunts, you can't avoid the occasional mishap. Fast and the Furious 6 star Dwayne Johnson tweeted a photo from the set which shows the aftermath of him throwing a man with a bit too much zeal.
On set. FAST 6. Take 1: Rock throws man into table so hard entire ceiling crashes down. #MyBad pic.twitter.com/XAjkHXTf

— Dwayne Johnson (@TheRock) September 10, 2012
Johnson is joined by Paul Walker, Vin Diesel, Jordana Brewster, Gina Carano, Michelle Rodriguez, and Luke Evans in the Justin Lin-directed sequel. Fast and the Furious 6 zooms into theaters May 24, 2013. [MovieWeb]
The new poster for Silent Hill: Revelation 3D tries to play up the 3D part of that title by swinging a big scary blade in your face. The key word in that sentence is "tries." Unfortunately, the 3D looks terribly half-assed even here.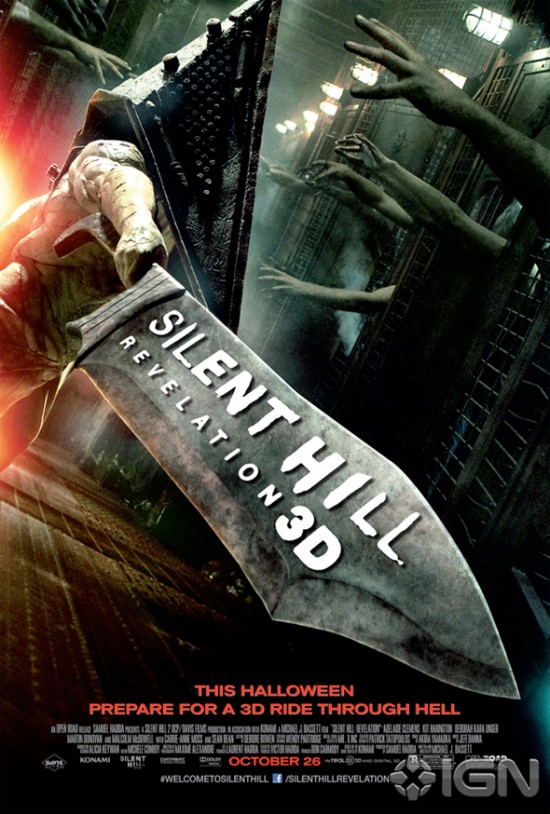 Adelaide Clemens, Sean Bean, Michael Bassett, Carrie-Anne Moss, and more star in the video game adaptation, which opens October 26. [First Showing]