Google Doodle Pays Homage To Original 'Star Trek' Series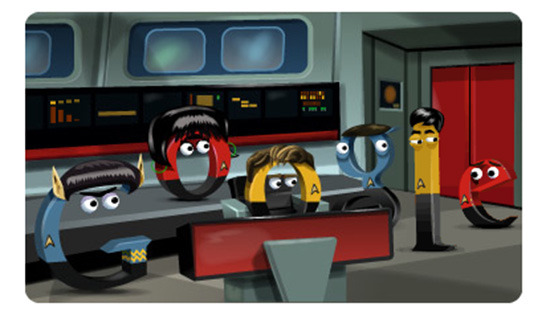 Briefly: Today's Google Doodle is a really nice little interactive adventure that honors the 46th anniversary of the original Star Trek TV series. Clicking through the doodle, which uses a point-and-click adventure game style to present a brief away mission, reveals a few nods to well-known elements of the show (Tribbles, Uhura's allure) as it celebrates certain iconic visual elements of the show. Hit the Google front page to see it in action, and get a bit of info about the doodle below.
EW spoke to Ryan Germick, who headed the team that created this doodle, about his love for Trek and the place the show holds in both pop culture and tech circles. His most significant statement points to the reason the doodle works as a representation of Google:
We often talk at Google about how awesome it would be to talk to a computer and get exactly what you want and have that kind of engagement, where the computer just knows all [like in Star Trek], and that's what we're moving toward. Other than that, it just seemed like a perfect fit. There are so many Star Trek fans, myself included, it seemed like such a fun thing to celebrate.