'Wuthering Heights' Trailer: 'Fish Tank' Director Andrea Arnold Finds Stark, Modern Beauty In Emily Brontë's Moors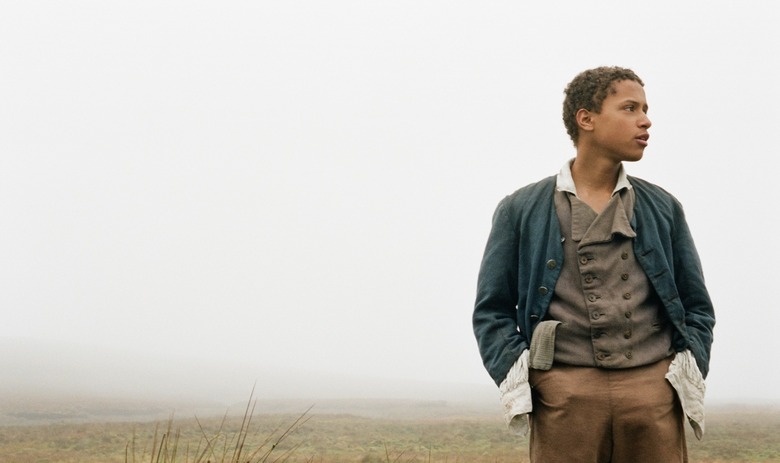 The director of the gritty modern Fish Tank may not seem like the most obvious fit for a romantic tragedy by a Brontë sister, but from the looks of it Andrea Arnold has certainly found a way to make Wuthering Heights her own. Eschewing stuffy period piece conventions, Arnold's adaptation keeps the 19th century setting but makes it look very 21st century.
Oscilloscope Laboratories has just released a gorgeously moody new trailer for the romantic drama, and it's definitely worth a peek if only for Arnold's striking visuals. Kaya Scodelario and newcomer James Howson star as doomed lovers Catherine and Heathcliff. Check it out after the jump.
No surprise that Arnold's visual sense and cinematographer Robbie Ryan's stunning camerawork got high praise on the festival circuit last year. Reviews of the actual film, however, were all over the map.
On the pro side were publications like The Telegraph, which gushed that the movie would be "the most impressive costume dramas I've seen in years, except it's so far removed from any normal expectations of the genre that I'd hesitate to call it a costume drama at all." Detractors like The Daily Mirror agreed that Arnold's take was unconventional didn't care for the result, writing "It's not a costume drama in any real sense, with blusters of wind standing in for dialogue and, frankly, sheer boredom subbing for Brontë's look into the riddles of the human heart."
Wuthering Heights gets a limited Stateside release starting October 5.
Synopsis:
Andrea Arnold's WUTHERING HEIGHTS is an excitingly fresh and distinct take on the classic novel by Emily Brontë.
An epic love story that spans childhood well into the young adult years, the film follows Heathcliff, a boy taken in by a benevolent Yorkshire farmer, Earnshaw. Living in Earnshaw's home, Heathcliff develops a passionate relationship with the farmer's teenage daughter, Catherine, inspiring the envy and mistrust of his son, Hindley. When Earnshaw passes away, the now-grown characters must finally confront the intense feelings and rivalries that have built up throughout their years together.
Arnold's film is a beautiful and evocative visual masterpiece that brings out the powerful emotions at the heart of Brontë's classic novel, resulting in a viscerally affecting love story. It is a sweepingly old-fashioned tale of family, class, and romance told in a bracingly modern way by one of contemporary cinema's most gifted and unique filmmakers.