Exclusive: 'Mucho Machismo' Art Show Celebrates The Action Stars And Films Of The Eighties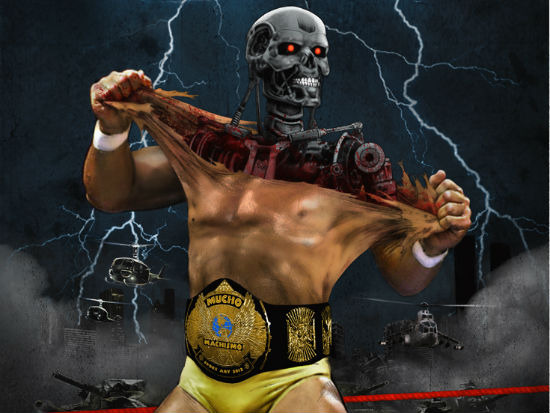 Action films in the Eighties were extremely distinctive. The featured big muscle-bound men accomplishing insurmountable tasks, decorated with squirting blood, massive guns and fists to the face. The names are legend: Arnold Schwarzenegger, Sylvester Stallone, Jean Claude Van Damme, Chuck Norris. The films are revered: The Terminator, Bloodsport, Commando, Cobra, Rocky III, RoboCop, Rambo, Aliens. And now Spoke Art has teamed up with artist Jon Smith to create an art exhibit that's all about the craziest era in action film history.
It's called Mucho Machismo: First Blood Part One and features works by Godmachine, James Flames, Tim Doyle, Methane Studios, Gabz, Alan Hynes and many others. The show opens in Oakland, CA Friday September 7 and will remain on display through September 28. Check out an exclusive gallery of images featuring all those films above and others after the jump.
Mucho Machismo opens Friday September 7 as a special Spoke Art Pop Up Gallery located at 1425 Broadway, Oakland CA. Head to their official site for more specific information. Here's a gallery of work from the show. Mouse over each for the artists name.
Some of my favorites above include Nick Derrington's piece featuring one of my favorite characters of all time, Corporal Hicks from Aliens. The way Alan Hynes portrayed Tony Montana in white powder. Keith Negly's beautiful representation of Bishop. Tim Doyle's unique blend of Machismo movies with the Bible and Twins. This is a really bad-ass show, in more ways than one, with some fun, hilarious work from great artists.
Who in the Bay area is gonna go check this out?
Keep an eye on the Spoke Art Twitter and Facebook to grab a piece of art after the opening.