See Two Posters And A Few Seconds Of Footage From The Coen Brothers-Scripted 'Gambit'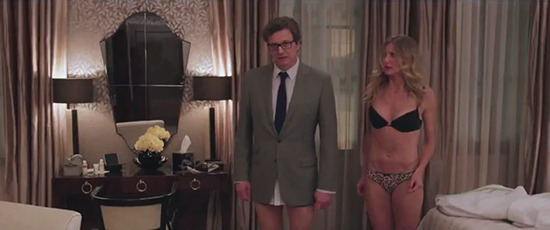 A movie I'm really curious to see, whenever the chance arises, is Gambit. Directed by Michael Hoffman, the movie is a remake of a 1966 romantic caper movie that originally starred Michael Caine and Shirley MacLaine. This version was scripted some time ago by Joel and Ethan Coen, and finally shot with Colin Firth and Cameron Diaz in the lead roles, supported by Alan Rickman, Stanley Tucci, Tom Courtenay and Cloris Leachman.
The original version of the story features Caine as a slick professional thief who recruits MacLaine to help him accomplish a major theft. This version is a bit different, as it follows this path: "An art curator decides to seek revenge on his abusive boss by conning him into buying a fake Monet, but his plan requires the help of an eccentric and unpredictable Texas rodeo queen." With the Coens scripting I'm hoping that some of the weird comic charm of the original is intact, or altered in an interesting fashion.
We don't know much about how the project came out, but two posters have come online as part of the film's international promotion, and there is also a very brief look at footage. It's all below.
IMPawards presents these two posters:
And then there are a few shreds of footage, since we don't yet have a trailer. UK audiences will have seen these few seconds of Gambit many times, as they're part of a reel that has been running in theaters for months. (I saw it when I caught Battleship in London at the beginning of the summer.) But for everyone else, here's a tiny taste of Gambit in motion:
Gambit hits the UK on November 21, and is likely to be on screens in the US next year. The uncertain release doesn't inspire much confidence, but I remain curious.