'A Christmas Story 2' Trailer: The Lamp Is Back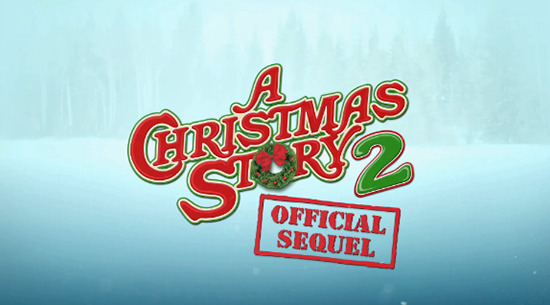 See that "official sequel" stamp in the image above? That's the mark of quality. There's now a trailer for that direct to DVD sequel to A Christmas Story, and it proves that capturing the ineffable is just as difficult as we assumed it would be. Almost nothing in this trailer works (save for the Slinky joke) but I'll suggest you hit the jump and take a look anyway.
I'm trying to come up with anything substantial to say about that trailer, but for the most part it is just sad. Animated sequels are easier to stomach, as the gulf between direct to DVD sequel and original can be easier to disguise in animation. But making a sequel to a film like A Christmas Story has loads of challenges — getting a cast that looks right, and writing a story that seems appropriate, all while trying to create yet another nostalgic period vision of middle America. That last one is difficult even when everything else is working at full speed.
Blame Yahoo! for the trailer. A Christmas Story 2 will ruin a whole bunch of Blu-ray and DVD discs on October 30th.
Years after realizing his childhood dream of getting a Red Ryder BB gun for Christmas, 16-year-old Ralphie (Braeden Lemasters) sets his bespectacled sights on a gift of the four-wheeled variety in this belated sequel to the Bob Clark's beloved 1983 classic A Christmas Story. As the snow begins to fall and the carolers start to sing, Ralphie dreams of waking up on Christmas morning to find the keys to a 1938 Hupmobile Skyline Convertible dangling from the tree, and embracing a whole new world of freedom as he cruises the streets of Hohman, Indiana in style. Home Alone alumni Daniel Stern takes over for the late Darren McGavin as The Old Man, with Stacey Travis, David Buehrle, David W. Thompson, and Valin Shinyei sounding out the supporting cast as Mrs. Parker, Schwartz, Flick, and Randy respectively.