Cool Stuff: Mondo's New 'Jurassic Park' Poster Asks "What If Nothing Went Wrong?"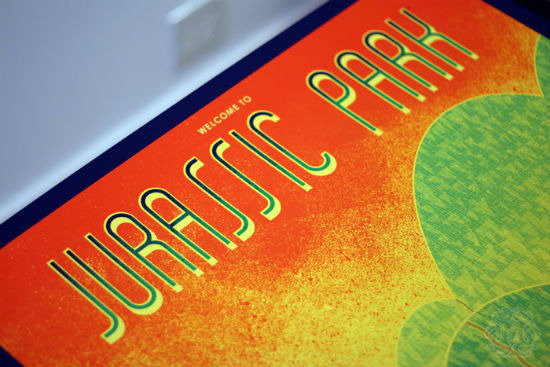 Unfortunately, John Hammond's vision of what Jurassic Park could've been never came to pass. Life found a way and all his precious, living, previously extinct attractions ran amuck and created enough chaos for three movies, with a fourth on the way.
That might have been the case on Isla Nublar, but outside the movies, artists are free to change the fate of the park however they want. So, for example, when Kevin Tong was tasked to make a Jurassic Park poster for Mondo, he surmised what Jurassic Park would be if all went according to plan. The answer? It's one of the happiest places on Earth where families go to enjoy a fantastic, fun-fulled vacation full of memories and dinosaurs. Kind of like Disneyland.
Mondo's latest Jurassic Park poster is a limited edition screenprinted advertisement for the Jurassic Park of John Hammond's dreams. Check out the full images as well as some close ups after the jump.
Kevin Tong's Jurassic Park, a 24 x 36 inch edition of 275, goes on sale at a random time Thursday September 6 by following @MondoNews. Here's the poster as well as some detailed shots from the Mondo Blog.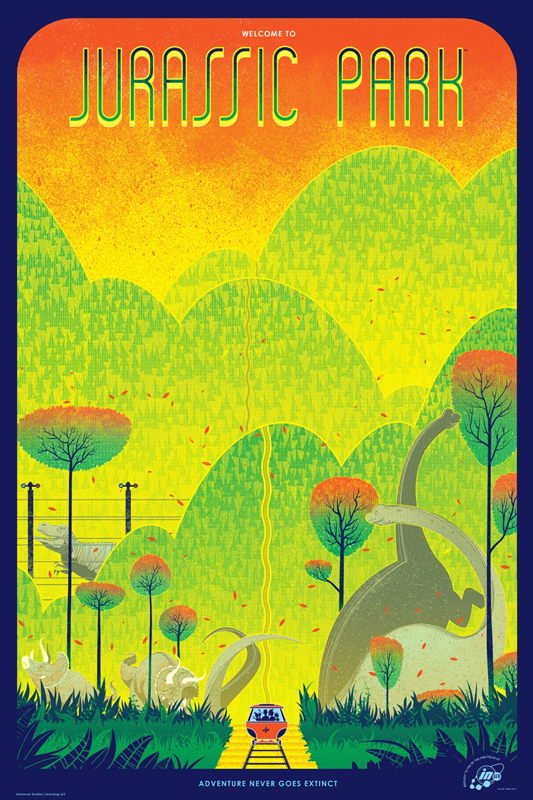 Here are some more shots of the detail:
They'll also have a brand new Looney Tunes poster available tomorrow at the same time for the classic cartoon What's Opera Doc? The poster is by Tom Whalen. Click here to see that.
What do you think of the Jurassic Park poster? Is it too unlike the movie for you to like it? Too bright? That's exactly what I like about it. It's something from a movie I love that is totally unlike the movie itself.