'The Bay' Trailer: Barry Levinson's Own 'Jaws' Is Creepy Found-Footage Eco-Horror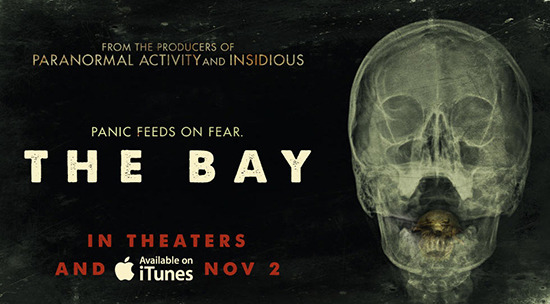 It's July 4 and a coastal playground in the Northeastern US is under attack from something that comes from the water. Familiar as that premise sounds to Jaws fans, this is something different. The Bay is from Barry Levinson (Wag the Dog, Rain Man) and is a found-footage assembly that looks at what happens when pollution-mutated parasites start burrowing into people.
This is like a grand found-footage mash-up, featuring viral horror, zombie-like aftereffects, and an obvious updated influence from Jaws, in at least the film's first act. Check out the trailer below.
So this is not just the updated Jaws, but the updated Prophecy. And while the trailer is cut very well and the idea of having an experienced director like Levinson at the helm helps out, I wonder if there are any characters really worth paying attention to in this one, or if it simply throws out weird eco-horror ideas and some very familiar found-footage tropes. I like this trailer a lot, so my interest is piqued, and I'm hoping the film is as much creepy fun as this footage suggests.
Apple has the trailer. In theaters and available on VOD November 2, 2012 from Roadside Attractions.
The quaint seaside town of Chesapeake Bay thrives on water; it is the lifeblood of the community. When two biological researchers from France find a staggering level of toxicity in the water, they attempt to alert the mayor, but he refuses to create a panic in the docile town. As a result, a deadly plague is unleashed, turning the people of Chesapeake Bay into hosts for a mutant breed of parasites that take control of their minds, andeventually their bodies. A brutal and harrowing creature feature for the 21st century, THE BAY chronicles the descent of a small town into absolute terror.