Craig Gillespe In Talks To Direct Jon Hamm In Real-Life Baseball Drama 'Million Dollar Arm'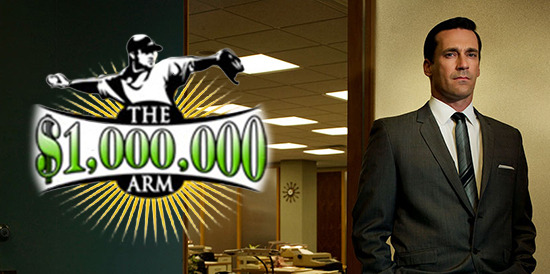 Fright Night may not have done massive business for Disney and DreamWorks, but it was good enough to keep the principals on board at Disney. Screenwriter Marti Noxon was just announced as part of a new Pixar project, and now Fright Night remake director Craig Gillespie, who also made Lars and the Real Girl, is in talks to make the baseball drama Million Dollar Arm. Jon Hamm remains set to star.
Variety reports that the script by Tom McMcarthy (Win Win, The Station Agent) is about "the true story of how sports agent J.B. Bernstein (Hamm) discovered professional pitchers Rinku Singh and Dinesh Patel through a reality show he staged in India with cricket players."
Bernstein has a solid history in the sports business: he worked at the Uupper Deck Company, which manufactured premium sports cards int he late '80s, and then went further into sports merchandizing. He also formed and ran a sports agency, where he repped players like Barry Bonds and Emmitt Smith.
But it's Bernstein's brainstorm for the Million Dollar Arm contest in India that will probably be most associated with his name in years to come. Inspired by the similarity between pitching in cricket and baseball, Bernstein created the TV contest in India; winners get one million US dollars and a chance to pitch for a major league team. The winners in 2008, Rinku Singh and Dinesh Kumar Patel, signed to the Pittsburgh Pirates.
Clearly the film will have to cast a good number of Indian actors, and one would also expect there will be a good degree of fabrication to emphasize the sports drama and make the whole thing even more family-friendly than the basic concept already is. But that concept is quite good, and I can see this being a real crowd-pleaser, especially if Hamm channels his most appealing aspects.