Michael Fassbender And Domhnall Gleeson Join UK Comedy 'Frank,' From 'The Men Who Stare At Goats' Writers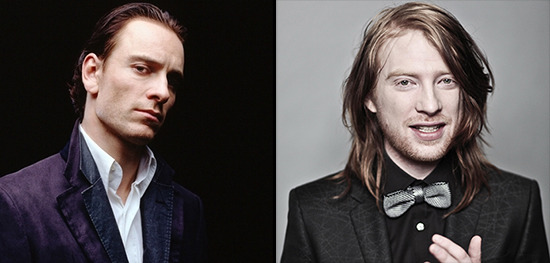 Briefly: This is a pretty small story, but it could lead to something fun: Michael Fassbender and Domhnall Gleeson (son of Brendan, and Bill Weasley in the last two Harry Potter films) have been signed to star in a UK comedy called Frank.
The Film4 production is written by Jon Ronson (who wrote the book The Men Who Stare at Goats) and Peter Straughan (who scripted the film The Men Who Stare at Goats, and co-scripted Tinker Tailor Soldier Spy) and will be directed by Lenny Abrahamson. That's a pretty good talent lineup, and the idea of seeing Fassbender play in an a comedy is so appealing.
Oh, and the film might be kind of a musical, as Variety says "Gleeson will play an aspiring musician who finds himself in over his head when he joins an eccentric rock band led by Fassbender."