'Hansel And Gretel: Witch Hunters' International Trailer: "You Gotta Be Kidding Me"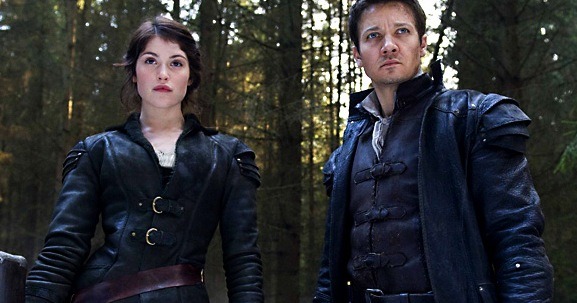 Last year Jeremy Renner and Gemma Arterton starred as adult versions of Hansel and Gretel in a film called Hansel & Gretel: Witch Hunters, directed by Tommy Wirkola (Dead Snow). The movie has been delayed a couple times, but is finally set to open in January, thanks to Jeremy Renner's increased profile post-Avengers and Bourne.
The first trailer for the movie has been released, and it looks a little bit like Army of Darkness, and a little bit like the old Japanese action/comedy/splatterfest Versus, thanks to the fact that much of the action takes place in nondescript forests. And then, as many people surmised based on the premise and early photo, it also has a lot of Terry Gilliam's Brothers Grimm spirit. That, being Gilliam's dodgiest film, isn't necessarily a good thing.
Check out the trailer below. (Update: We've added the official embed from Paramount, which comes without the subtitles.)
I hope there's more humor int he film than this trailer suggests. Otherwise it might play too much like Van Helsing and Abraham Lincoln: Vampire Hunter. The fact that this looks super-cheap doesn't have to be the worst thing, but will it be silly enough to be fun, or just a long slog of grim fantasy?
Hansel and Gretel: Witch Hunters hits theaters on January 11th. Famke Janssen, Peter Stormare, Derek Mears, Thomas Mann also appear.
Hansel & Gretel: Witch Hunters takes place 15 years after the siblings' incident at the gingerbread house. The two are now specialized bounty hunters looking to put down the cackling black-hat set.