Paul Thomas Anderson Says His Pynchon Adaptation 'Inherent Vice' May Be Next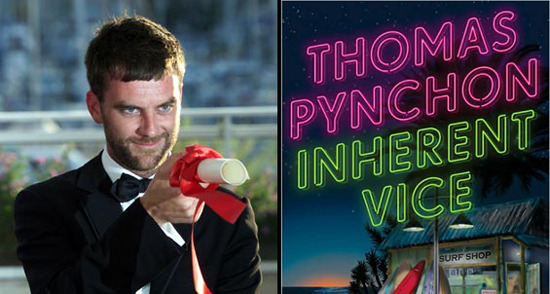 It wasn't quite two years ago that we heard that Paul Thomas Anderson might follow up The Master with one of the first major film adaptations of a Thomas Pynchon novel. The book in question is Pynchon's most recent, Inherent Vice, which follows a burnt-out detective who gets roped into a caper revolving around a real estate mogul. (Think of it like the TV series Terriers as a period piece, with a bit more Big Lebowski thrown in, as well as Pynchon's trademark verbal tics.)Robert Downey, Jr. has been attached to play the lead role, but we haven't heard much about Inherent Vice in a while. But while talking about The Master at Venice, PTA said that the Pynchon adaptation is still brewing and could be next.
Asked "what's next?" by Screen Daily, Anderson responded,
I'm hoping we can get Inherent Vice going soon. That's what I'm writing now. It's taking my mind of this, actually. It's a lot of fun. It's such a different piece, though. It's nice to have a collaborator, as it were, through working on the book.
And to Empire, PTA said Inherent Vice is "like a Cheech and Chong movie. [Adapting Pychon's work is] just gonna be great and, hopefully, fun." Asked how long the project might take, the director said,
Hopefully not long. I'd like to have a few years of being more productive. But we'll see... There's so much. But it's fun too, be because they're his words, and... it's like taking your dad's car for a ride, y'know?