Ramin Bahrani's 'At Any Price' Is My Favorite Film Of Telluride 2012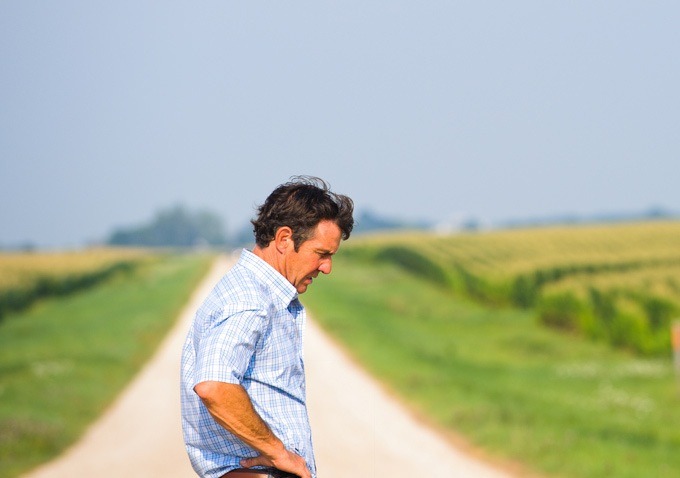 Ramin Bahrani's most accessible film to date ends up being my favorite film of the 2012 Telluride Film Festival (yes, besting Ben Affleck's Argo).
Ramin has developed a cult following from his three minimalist slice-of-life micro-budget films starring non-professional actors (if you havent yet seen Man Push Cart or Goodbye Solo, put them on your "to see" list). But with At Any Price, Bahrani is gearing up to step out of the film festival shadows and find an audience beyond cinephiles. Indie filmgoers may be turned off by this but I welcome Bahrani's attempt to tell more expansive stories.
Dennis Quaid plays a fourth generation farmer trying to survive in a time when big corporations are pushing in and devouring the American heartlands. Fighting to keep his family afloat, and losing the battle of keeping his family unit together, Henry comes face to face with the consequences of his amoral actions.
Some of my favorite movies are the stories of good well-meaning people who, when faced with difficult circumstances, are driven out of desperation to make one or two wrong choices that result in their lives spiraling out of control. In this story, Henry isn't necessarily a good person (he cheats on his wife and adopts used car salesman-like tactics), but he is well-meaning.
You won't necessarily agree with what Henry has done (or for that matter, what he does), but you're with him for the journey. Sometimes you'll be rooting for him to triumph, while other times you'll be internally struggling with how you're supposed to feel. And that's a testament to Quaid's performance, which may very well be the best performance of his career.
I must admit that I haven't been a fan of Zac Efron, but his standout performance in Josh Radnor's Liberal Arts made me believe that Efron has a lot more to him than just teenie star label he has earned. This film continues to show Efron's potential as a serious actor.
After I was done thinking about Quaid's amazing performance, I found myself wondering who Maika Monroe is. Monroe is somehow able to steal the scenes she shares opposite Dennis Quaid, which is a very tough task in this film. It turns out that this is Maika's first real performance, after appearing in a few bad indie horror films. Mark my word, this newcomer is going to make a huge name for herself in the coming years. We will see Monroe next in Academy Award-nominated filmmaker Jason Reitman's next film, an adaptation of Labor Day.
It's also worth noting that Goodbye Solo star Red West reunites with Ramin, in a supporting role as Henry's father. West is a character actor you should definitely recognize, credited with nearly 100 movies from Spartacus to Walking Tall, Road House to Natural Born Killers.
Ramin weaves an intricate family melodrama which acts as a metaphor for the bigger geopolitical problem facing the Midwestern farming communities.