'Seven Psychopaths' Red-Band Trailer: "You Seem Normal"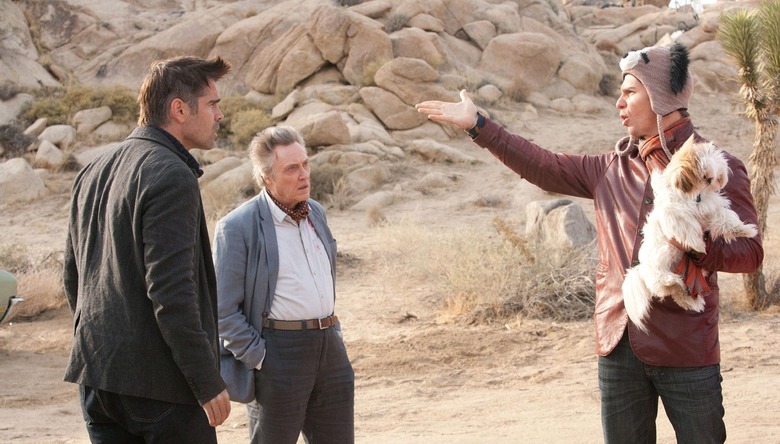 Funny as the first Seven Psychopaths trailer was, as a green-band trailer it could only get across so much of director Martin McDonagh's twisted, decidedly R-rated sensibility. This, after all, is a guy whose first feature picked up in the aftermath of a hitman killing a child — and only got bloodier and more foulmouthed from there. A new red-band trailer allows things to get a little more profane, and a little more violent, to great effect.
Colin Farrell leads the cast as a struggling screenwriter who gets caught up in his best friend's (Sam Rockwell) dog-napping scheme: take the puppy, return it to its owner, and collect the reward. But when they target the wrong man, a maniacal gangster named Charlie (Woody Harrelson), they find themselves in way over their heads. Christopher Walken, Tom Waits, Gabourey Sidibe, Abbie Cornish, and Olga Kurylenko also star. Watch the video after the jump.
I could watch Farrell yell about things being "f***ing great" all day. Not only has McDonagh collected a fantastic lineup, the actors seem to have fantastic chemistry with each other. Seven Psychopaths opens October 12.
Synopsis:
From Oscar-winning writer and director Martin McDonagh comes a star-studded, blood-drenched, black comedy. Marty (Colin Farrell) is a struggling writer who dreams of finishing his screenplay Seven Psychopaths. All he needs is a little focus and inspiration.
Billy (Sam Rockwell) is Marty's best friend, an unemployed actor and part time dog thief, who wants to help Marty by any means necessary.
Hans (Christopher Walken) is Billy's partner in crime. A religious man with a violent past. Charlie is the psychopathetic gangster whose beloved dog, Billy and Hans have just stolen. Charlie's unpredictable, extremely violent and wouldn't think twice about killing anyone or anything associated with the theft. Marty is going to get all the focus and inspiration he needs, just as long as he lives to tell the tale.