Four New Photos From Guillermo Del Toro's 'Pacific Rim'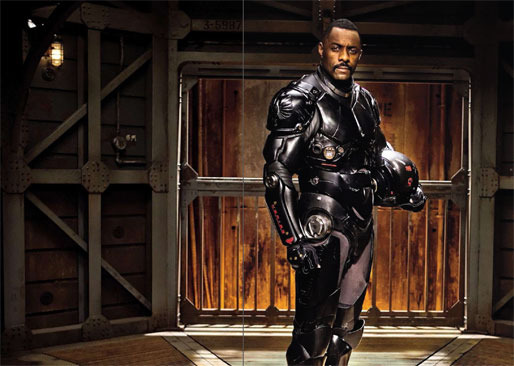 After Pacific Rim revealed itself to the world at Comic-Con, director Guillermo del Toro promised total radio silence until the first trailer hit this Winter. I guess he forgot about the power of Empire Magazine, which has just published four new photos from the set of the July 12, 2013 sci-fi action film. Starring Charlie Hunnam, Rinko Kikuchi, Idris Elba, Charlie Day and Ron Perlman, Pacific Rim is set in the future where giant monsters called Kaiju have invaded Earth. In response, humans control equally giant robots called Jaegers to fight them. And then the games begin.
Check out the photos below.
These scans from Empire originally appeared on Shock Till Ya Drop.
I think the main thing to take out of these photos are the colors. Look at all those reds, purples and yellows. Even if a lot of that is changed in post-production, you can see that del Toro is making a vibrant movie.
"I wanted to make not a war movie, but an adventure movie, with a huge, romantic sense of adventure, a sense of grandeur, and operatic battles," del Toro said at Comic-Con. The footage he screened there was most certainly that. Head here to read Angie's thoughts on the script and some more details about the movie.
Also, here's our video blog talking about all of the Warner Bros. films. Head to the 41-minute mark to hear about Pacific Rim.
Guillermo del Toro's Pacific Rim will be released on July 12, 2013. Expect the first trailer this Winter, possibly attached to The Hobbit: An Unexpected Journey.