First Full Clip From Rian Johnson's 'Looper' Doesn't Want To Talk Time-Travel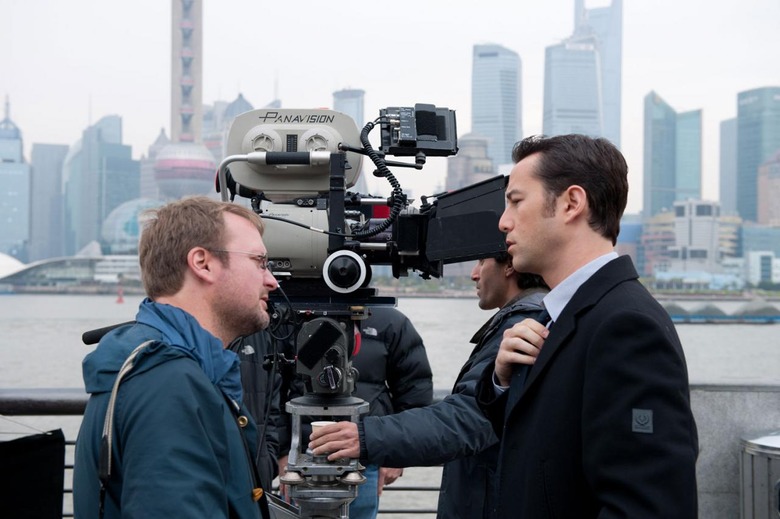 Though Rian Johnson's sci-fi film Looper doesn't open for a month, you're soon going to be hearing a lot about it. It has its world premiere at the Toronto International Film Festival next week and /Film will be on the scene. The film, which stars both Joseph Gordon-Levitt and Bruce Willis as a character named Joe, takes place in a world where time-travel was invented but quickly made illegal. The technology is primarily used by the mafia, which sends targets back in time to be assassinated by special killers called loopers. However, when Joe realizes his latest victim is his older self, he learns the future is not what he expects it to be.
In the first full clip released from the film, you'll see a bit more of a sit down encounter between the old and young version of Joe, and get a bit of that self-referential time travel edge you'd expect from Johnson. Check it out below.
Here's the clip from Yahoo Movies. It's spoiler-free and, in fact, actually is an edit of the scene as it appears in the actual movie, moving around some key plot points.
Expect much more on Looper next week as it premieres at Toronto. It opens everywhere September 28.
Here's the official plot synopsis.
In the future, time travel will be invented – but it will be illegal and only available on the black market. When the mob wants to get rid of someone, they will send their target 30 years into the past, where a "looper" – a hired gun, like Joe – is waiting to mop up. Joe is getting rich and life is good until the day the mob decides to "close the loop," sending back Joe's future self for assassination.