First Look: Roman Coppola's 'A Glimpse Inside The Mind Of Charles Swan III,' With Bill Murray And Charlie Sheen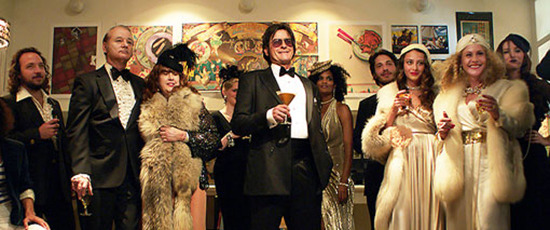 Roman Coppola's last film — and his first film — was CQ, released in 2001. While he has been a creator on several big movies since thanks to work with his father (Tetro, Youth Without Youth) and Wes Anderson (The Darjeeling Limited, Moonrise Kingdom) I've been hoping to see more development from him as a director.
Coppola's second feature is A Glimpse Inside the Mind of Charles Swan III, featuring Charlie Sheen as the title character and supporting work from Bill Murray, Mary Elizabeth Winstead, Patricia Arquette, Aubrey Plaza, and Jason Schwartzman. Like CQ, the movie takes place within a skewed world that isn't quite our reality (as the title implies) and shows what happens when Swan's girlfriend (Katheryn Winnick) dumps him and he starts to unravel.
The film has just been dated for February 2013, and we've got the first two photos from the film, along with some explanation from Coppola of just what we can expect to find in Swan's head.
EW has the pics, and presents a good little interview with Coppola about the movie. The choice of Sheen to play Swan seemed to be a very topical one at the time Coppola announced it; that was just as Sheen was at the height of his wild, Tiger Blood-drunk publicity spree. Coppola says,
Charlie is so perfect for the role, but he's not perfect because of the public profile we've seen in the news. He's incredibly talented as an actor, he has tons of charisma, he's very witty. He's very funny and charming. You can use your charm sometimes as a problem solver — and my character, that's what he's been doing. He's been sliding through on life, using his charm and wit and charisma to get past some problems. But the problems are still there, and that's the story of the movie... On the surface you could make a lot of parallels, but when you see it you'll appreciate this character is one we invented together, and he as a performer drew from whatever talents and inclinations he has.
And Coppola explains how the title relates to what we'll actually see in the movie:
It's not strictly realistic. In the film, because some of the sequences take place in the imagination of the main character, it goes to fantastical circumstances and settings. There's a western sequence, there's an underground spy-agency sequence. There are some playful touches that, for me, are cued off this main character, whose professional life is creating imagery, stylized imagery like album cover art.
There's a lot more in the EW article, including a pretty good breakdown of the main characters and the actors playing each one, but in the meantime I'll just let you puzzle over these images: