'The Sapphires' Trailer: Like An Australian 'Dreamgirls' Led By Chris O'Dowd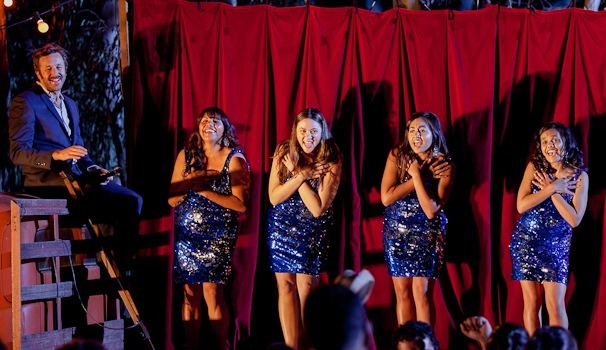 Sparkle proved something of a disappointment with lukewarm reviews and an even more lackluster box office performance, but happily there's another, more promising '60s girl group movie coming up on the horizon.
Based on a true story, The Sapphires centers around a quartet of Australian Aboriginal girls (Deborah Mailman, Jessica Mauboy, Shari Sebbens, and Miranda Tapsell) discovered one night by an oft-drunk but well-meaning talent scout (Bridesmaids' Chris O'Dowd). With his help, they refashion themselves into a glitzy soul group — a Down Under version of the Supremes — and book a gig performing for Vietnam War troops.
The first feature from short film director Wayne Blair, The Sapphires has already proved to be a critical and commercial success in Australia. It's now headed for U.S. release whenever The Weinstein Co. sets a date. Watch the new trailer after the jump.
[via Pajiba]
The phrase that gets evoked most often in writeups of this film seems to be "crowd-pleasing." It's not tough to see why. The combination of humor, heart, and splashy musical numbers can be an irresistible one if done right. There doesn't seem to be much in here that we haven't seen already, but some tropes stick around for a reason. And it does offer a little something new — this may be the most dramatic performance I've seen yet from O'Dowd, whom I mostly know from The IT Crowd and Bridesmaids.
The Sapphires made its debut at this year's Cannes Film Festival, and has a TIFF presentation lined up as well. A Stateside theatrical release has not been announced, but look for the Weinsteins to drop some details soon.
If that trailer didn't sell you on the film, check out this adorable video of O'Dowd leading his co-stars in a rendition of "Sugar Pie Honey Bunch" at a Cannes party:
[via Vulture]