Aubrey Plaza Romcom 'The To Do List' Gets Red-Band Teaser And Release Date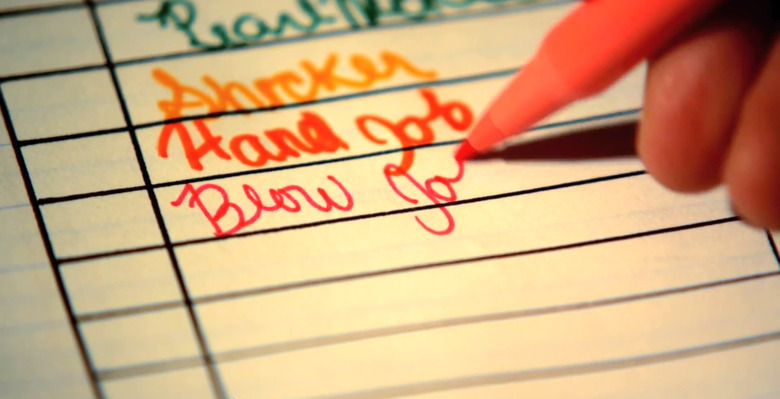 With her sharp, sarcastic persona, Aubrey Plaza could've easily wound up with a decent career playing BFF and sidekick roles. But in this year's heartwarming indie hit Safety Not Guaranteed, she proved herself equally up for the task of leading a film — and now she's about to do so again in next year's The To Do List.
The cast list for the R-rated coming-of-age comedy reads is chock full of funny young talents. In addition to Plaza, Alia Shawkat, Christopher Mintz-Plasse, Donald Glover, Andy Samberg, Bill Hader, Rachel Bilson, Scott Porter, Johnny Simmons, and Sarah Steele all co-star. Connie Britton and Clark Gregg take on the rare grown-up roles, apparently as Plaza's parents. CBS Films has just offered a first red-band (i.e., NSFW) look at the film in a new video announcing the release date. Watch it after the jump.
[via The Film Stage]
Written and directed by Funny or Die scribe Maggie Carey, The To Do List follows a type-A overachiever named Brandy Klark who decides to prepare for life after high school in an unusual way. Having realized that she's missed out on the romantic and sexual rites of passage that most of her peers experienced in high school, she makes a bullet-point list of risque activities to accomplish before she sets off to college.
The "high schooler tries to get laid" premise has been done a million times before, but The To Do List seems to offer a fresh twist on it by making the protagonist a straitlaced, straightforward teen girl instead of the typical horny teen boy. The red-band teaser offers just a small taste of the movie, but so far it looks like Carey's making great use of that top-notch comedic cast. Look for more trailers and clips (and possibly reviews, if it hits up Sundance) to drop between now and the film's February 14, 2013 release date.