Eddie Murphy And 'Shield' Creator Shawn Ryan Shopping A 'Beverly Hills Cop' TV Series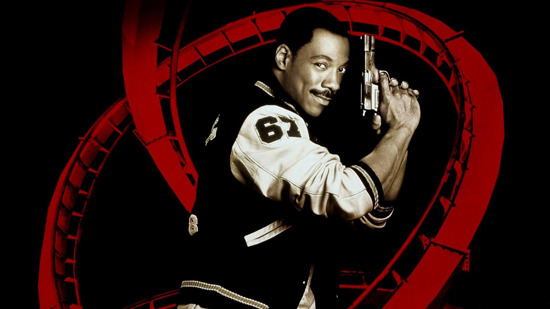 The film series that helped launch Eddie Murphy to superstardom is likely coming to TV and Murphy will be a big part of it. He and Shawn Ryan, the creator of the hit TV show The Shield, are currently pitching a rebooted version of Beverly Hills Cop to television stations.
Murphy hinted at this last year when he described the show as the story of Axel Foley's son with Foley himself as the chief of police. Initial reports suggest that Murphy will indeed be reprising his role (on a limited basis) as the wise-cracking, letter jacket-wearing Detroit cop solving crimes in the whole new world of Beverly Hills, CA. Read more after the jump.
Vulture broke this and said that Tuesday was the first day Murphy and Ryan took meetings around Hollywood with broadcast networks. They've partnered with Sony Pictures Television on the show, which will be an hour-long, buddy cop procedural with comedic elements. There's no official word if one of those cops will, indeed, but the son of Murphy's character but with the news that Murphy will likely pop up a few times a year, which is what he said to Rolling Stone last year, it seems likely. Here's what he said at the time:
What I'm trying to do now is produce a TV show starring Axel Foley's son, and Axel is the chief of police now in Detroit. I'd do the pilot, show up here and there. None of the movie scripts were right; it was trying to force the premise. If you have to force something, you shouldn't be doing it. It was always a rehash of the old thing. It was always wrong.
A mini-Beverly Hills Cop every week? Sounds like a dream come true. Though, if the show ends up on a major network, it will sorely lack the edge and humor that made the trilogy such a success.
Either way, there's really no way this show doesn't at least make it to pilot. I'd be surprised if the first network they went to, whomever that was, didn't buy it immediately. The name recognition alone is worth the price, but add in Murphy and Ryan and Beverly Hills Cop sounds like a TV home run. Where do you think it should end up?