Despite Bob Hoskins' Retirement, The 'Roger Rabbit' Sequel Is Still Possible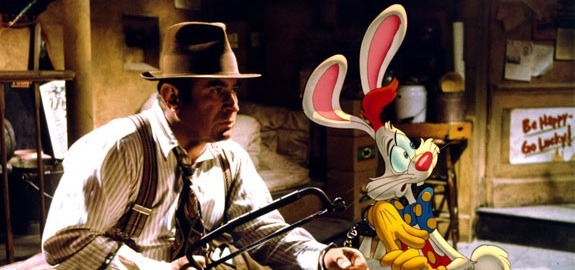 After years of working in the (self-imposed) motion-capture gulag, Robert Zemeckis returns to live-action with Flight. He's got other live-action work lined up, but one of his next projects may go back to his classic blend of live-action and animation, Who Framed Roger Rabbit?.
A Roger Rabbit sequel has been talked up for years and years, but seemed to have a big roadblock thrown in front of it over this past summer when Bob Hoskins, the lead of the original movie, retired from acting. But Zemeckis says that a sequel is still possible, just as soon as Disney gets its house in order.
Zemeckis told Roger Friedman,
I have a script at Disney, and we're just waiting for all the executive changes to settle down there.
(The changes he mentions refer to the recent regime switcheroo that saw Alan Horn taking over as chief at the Mouse House.)
Granted, having a script is a far cry from having a film, especially when it's a project that wants to blend various stables of licensed characters in the way that Roger Rabbit did. One might wonder if that Disney regime change could actually help Zemeckis now, as Alan Horn is the former head of Warner Bros. Could that relationship conceivably make it easier for the studios to work together on a deal that would let the WB characters interact with Disney's stable in the same way they did in the first movie? Probably not, but let's not rule anything out yet. We're in a world where another Bill and Ted sequel is happening, and a new Dumb and Dumber moves closer to shooting all the time. So it seems foolish to cross anything off the list. [via Bleeding Cool]