Watch The First Episodes Of Fox's 'The Mindy Project' And 'Ben & Kate' Online Now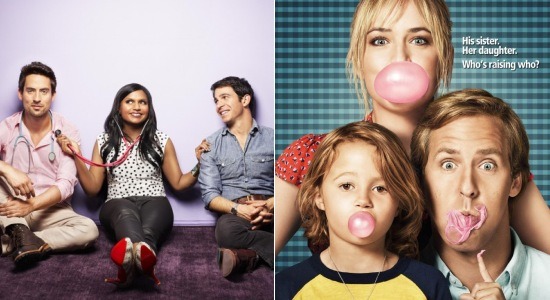 Fox's strategy of debuting freshman comedy New Girl online two weeks early paid off beautifully last fall, so it makes sense that they'd take a similar approach to this year's crop of new shows. The first episodes of The Mindy Project and Ben & Kate have both hit the web this week, nearly a month in advance of their September 25 on-air premieres.
Created by and starring The Office alum Mindy Kaling, The Mindy Project follows a doctor trying to get her life back on track in her early 30s. Ben & Kate, meanwhile, stars Dakota Johnson and Nat Faxon (one-half of the Oscar-winning The Descendants screenwriting duo) as a pair of grown-up siblings who move in together. Along with New Girl and fellow returning series Raising Hope, The Mindy Project and Ben & Kate will comprise Fox's new Tuesday night comedy block. Watch the new shows' pilot episodes in their entirety after the jump.
Ben & Kate strikes me as a little more uneven, personally. Faxon takes easily to the part of sloppy, laid-back Ben, but Johnson looks less comfortable as straitlaced Kate. Sitcoms often take a few episodes to click, though, as the cast and crew figure out how to play to each other's strengths, so there's potential for improvement. Lucy Punch, Echo Kellum, and Maggie Elizabeth Jones (the moppet from We Bought a Zoo) also star, with an assist in the first episode from For a Good Time, Call... actress Lauren Miller.
Ben & Kate will debut September 25 at 8:30 PM, and The Mindy Project at 9:30 PM. New Girl also returns that day with two new episodes, at 8 and 9 PM. The schedule will then change slightly the following Tuesday (Oct. 2), as Raising Hope settles into its 8 PM timeslot for its third season.
Discuss: Will you watch either of these shows?